Kesaksian Internal Roh Kudus menurut John Calvin
Keywords:
Holy Spirit, Calvin, Jean, 1509-1564
Abstract
Doktrin kesaksian internal Roh Kudus merupakan doktrin yang sangat penting bagi kekristenan terutama kalangan Reformed, terutama dalam membentuk epistemologi Kristen. Mengapa kita menerima kekristenan sebagai pengajaran yang benar dari Allah? Mengapa kita menerima Alkitab sebagai firman Allah? Jawabannya ada pada kesaksian internal Roh Kudus. Di dalam artikel ini kita akan membahas doktrin kesaksian internal Roh Kudus menurut salah seorang tokoh Reformator, yaitu John Calvin. Dibandingkan Luther, Calvin mengajarkan doktrin ini lebih jelas. Setiap kali orang berbicara mengenai otoritas Alkitab maka ia juga akan berbicara tentang kesaksian internal Roh Kudus menurut Calvin. Doktrin ini juga penting bagi kita untuk memahami seluruh doktrin pengetahuan akan Allah dan seluruh sistem teologi Calvin. Bagi Calvin sendiri doktrin ini merupakan dasar dari seluruh pengetahuan akan Allah. B. B. Warfield mengatakan demikian, "His doctrine of the testimony of the Holy Spirit is the keystone of his doctrine of the knowledge of God." Meski demikian doktrin ini bukan tanpa kritikan. David Friedrich Strauss, misalnya, pernah mengatakan bahwa doktrin ini merupakan titik lemah dari teologi Protestan. Karena tidak ada dasar rasional bagi seseorang untuk percaya kepada Alkitab sebagai firman Allah ketika seseorang hanya menunjuk kembali kepada Allah.2 Argumen demikian diangap argumen sirkular dan lemah. Bagaimana sebenarnya doktrin ini menurut Calvin? Apa kaitan antara doktrin ini dan otoritas Alkitab? Apakah doktrin ini mengabaikan "pembuktian rasional"? Artikel ini akan mencoba menjawab pertanyaan tersebut. Untuk itu yang pertama-tama akan dibahas adalah konteks historis doktrin ini dan konteksnya di dalam Institutio. Setelah itu akan dibahas kaitan doktrin ini dengan otoritas Alkitab kemudian kaitannya dengan "pembuktian rasional" menurut Calvin.
Downloads
Download data is not yet available.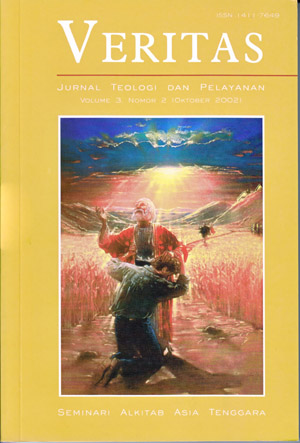 Downloads
How to Cite
Sulistio, Thio Christian. "Kesaksian Internal Roh Kudus Menurut John Calvin". Veritas: Jurnal Teologi dan Pelayanan 3, no. 2 (October 1, 2002): 243–253. Accessed February 5, 2023. https://ojs.seabs.ac.id/index.php/Veritas/article/view/97.