Peran Roh Kudus di dalam Doa menurut John Calvin
Keywords:
Holy Spirit, Prayer, Calvin, Jean, 1509-1564
Abstract
B. B. Warfield (1851-1921), seorang teolog Princeton Theological Seminary, pernah menjuluki Calvin (1509-1564) sebagai "teolog Roh Kudus." Ia mengatakan bahwa doktrin tentang karya Roh Kudus merupakan hadiah dari Calvin kepada Gereja. Mengapa demikian? Karena Calvin adalah orang pertama yang mengaitkan seluruh pengalaman keselamatan orang-orang percaya dengan karya Roh Kudus, dan mengajarkannya secara detail. Ia juga memikirkan tahapan-tahapan karya Roh Kudus dalam menyelamatkan manusia. Namun uniknya, hingga saat ini sangat jarang cendekiawan Calvinisme menulis tentang doktrin Roh Kudus menurut Calvin. I. John Hesselink mengatakan: "Hence it is a conundrum that so little has been written concerning Calvin's doctrine of the Holy Spirit, especially in the English-speaking world where there has been so much Calvin research over the last forty years." Hal ini, barangkali, disebabkan oleh dua hal. Pertama, Calvin sendiri hanya menulis satu bab yang pendek mengenai Roh Kudus di dalam Institutes-nya (III.1); dan kedua, karena ia mengaitkan hampir semua doktrin yang ia bahas dengan Roh Kudus. Karena itu, untuk membahas doktrin Roh Kudus menurut Calvin, kita perlu membahas seluruh teologinya. Ini bukan sesuatu yang mudah untuk dikerjakan sehingga tidak heran hanya sedikit pakar yang mampu melakukannya. Artikel ini tidak dimaksudkan untuk memenuhi kekosongan di atas, namun hanya ingin memperkenalkan sebagian kecil dari ajaran Calvin mengenai Roh Kudus, yaitu peranan Roh Kudus di dalam doa. Sistematika penulisannya adalah, pertama, penulis akan membahas definisi dan perlunya doa menurut Calvin. Kedua, peranan Roh Kudus dalam doa menurut Calvin, yaitu sebagai inisiator dan sebagai guru.
Downloads
Download data is not yet available.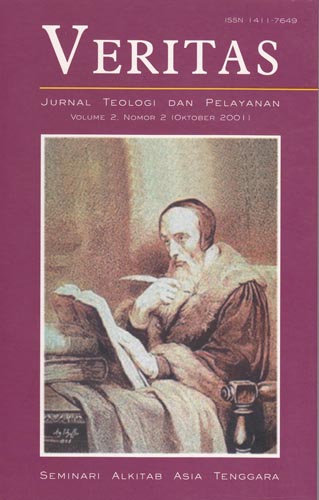 Downloads
How to Cite
Sulistio, Thio Christian. "Peran Roh Kudus Di Dalam Doa Menurut John Calvin". Veritas: Jurnal Teologi dan Pelayanan 2, no. 2 (October 1, 2001): 177–184. Accessed December 5, 2023. https://ojs.seabs.ac.id/index.php/Veritas/article/view/73.