Christus Victor dan Kemenangan Orang Kristen terhadap Kuasa Kegelapan
Keywords:
Powers (Christian theology), Devil -- Christianity., Jesus Christ -- Person and offices.
Abstract
Tulisan ini adalah sebuah usaha untuk menjelaskan konsep Christus Victor sebagai salah satu motif dalam karya penebusan Kristus yang berdampak, bukan saja pada kemenangan atas dosa dan maut, tetapi juga atas kuasa-kuasa kegelapan (power of the darkness). Untuk menjelaskan hal ini, pada bagian awal akan dibahas konsep penebusan Kristen berikut masalah-masalahnya; lalu, akan dibahas juga motif "Kristus Pemenang" itu sendiri dan dampak-dampaknya; kemudian, akan diteliti dan dieksposisi nyanyian kemenangan dalam Kitab Wahyu (Why. 12:10-12) sebagai sebuah paradigma nyanyian bermotif kemenangan; dan pada akhirnya, akan didiskusikan implikasi praktis konsep teologis ini dalam peperangan rohani (spiritual warfare) orang Kristen. Melalui tulisan ini, diharapkan bahwa pemahaman orang Kristen terhadap kemenangan penentu (decisive victory) dari karya Kristus atas kuasa kegelapan ini dapat menjadi semakin benar, dan akhirnya akan mempengaruhi kehidupannya secara nyata dalam menghadapi peperangan rohani, sehingga ia dapat hidup bukan sebagai umat pecundang, melainkan sebagai pemenang.
Downloads
Download data is not yet available.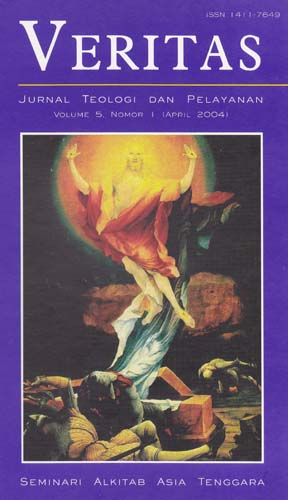 Downloads
How to Cite
Mamahit, Ferry Yefta. "Christus Victor Dan Kemenangan Orang Kristen Terhadap Kuasa Kegelapan". Veritas: Jurnal Teologi dan Pelayanan 5, no. 1 (April 1, 2004): 1–21. Accessed November 29, 2023. https://ojs.seabs.ac.id/index.php/Veritas/article/view/125.