Where is God in a Coronavirus World?
Sandra Wisantoso

Sekolah Tinggi Teologi SAAT
Keywords:
Coronavirus, Problem of Evil, Natural Evil, Pandemi, Masalah Penderitaan, Bencana Alam
Abstract
John Lennox adalah seorang profesor emeritus di bidang matematika dari Universitas Oxford di Inggris, dosen emeritus bidang matematika dan filsafat sains di Green Templeton College serta pengajar di The Oxford Centre for Christian Apologetics. Dalam karir akademisnya, Lennox giat membela iman Kristen di dalam debat-debat publik menghadapi para ateis terkenal seperti Richard Dawkins, Christopher Hitchens dan Peter Singer.
Tulisan-tulisan dalam buku ini lahir dari perenungan Lennox terhadap situasi kegelisahan dan kebingungan yang sedang melanda dunia ini  akibat pandemi virus Corona. Untuk itu, Lennox mengundang para pembacanya seumpama sedang berdialog dengannya di kafe sambil minum kopi dan bertanya: "Di manakah Allah di tengah dunia yang dilanda virus Corona?" Meskipun ditulis dalam waktu relatif singkat dan dengan jumlah halaman yang tidak banyak, buku ini memberikan wawasan yang cukup secara teologis, historis dan saintifik mengenai pandemi yang sedang terjadi saat ini. Tidak hanya itu, Lennox juga berupaya sensitif terhadap penderitaan yang sedang dihadapi pembacanya dengan menceritakan pengalaman-pengalaman pribadi dan keluarganya ketika menghadapi sakit penyakit.
Downloads
Download data is not yet available.
References
Lennox, John C. Where is God in a Coronavirus World? The Good Book Company, 2020.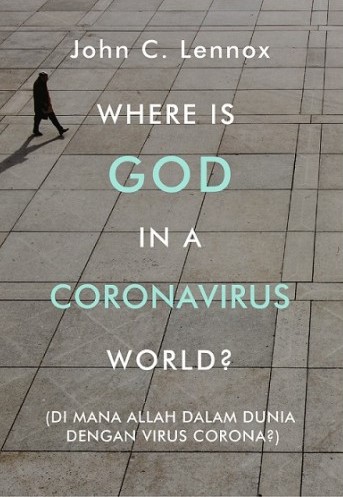 How to Cite
Wisantoso, Sandra. "Where Is God in a Coronavirus World?". Veritas: Jurnal Teologi dan Pelayanan 19, no. 1 (June 13, 2020): 113-116. Accessed September 28, 2020. https://ojs.seabs.ac.id/index.php/Veritas/article/view/365.
Copyright (c) 2020 Veritas: Jurnal Teologi dan Pelayanan
This work is licensed under a Creative Commons Attribution-NonCommercial-NoDerivatives 4.0 International License.
Manuscripts received for publication are copyright of Veritas: Jurnal Teologi dan Pelayanan. Requests to print part or all of the parts must be made to the Editor. The request is not needed if the copy is used for research, lectures, class discussions, personal websites or institutional repositories, but must still include references from Veritas: Jurnal Teologi dan Pelayanan.