Tinjauan Kritis-Multifaset Terhadap Tuduhan Genosida Atas Catatan Penaklukan Kuno Tanah Perjanjian
Critical-Multifaceted Review Against Genocide Allegations of Ancient Conquest Account of the Promised Land
Keywords:
Genosida, Genosida Bangsa Kanaan, Perjanjian Lama, Catatan Penaklukan Kuno, Perang Timur Dekat Kuno, Monster Moral, Ateisme Baru, Kekerasan dalam Alkitab, Apologetika, Genocide, Canaanite Genocide, Old Testament, Ancient Conquest Account, Ancient Near Eastern War, Moral Monster, New Atheism, Violence in the Bible, Apologetics
Abstract
Tujuan dari artikel ini adalah untuk menyajikan suatu tinjauan kritis-multifaset terhadap tuduhan bahwa Allah Yudeo-Kristen telah memerintahkan genosida kepada bangsa Israel dalam penaklukan Tanah Perjanjian. Sehubungan dengan itu, penulis mencoba memikirkan ulang apa yang dipersoalkan secara esensial dalam tuduhan tersebut dan membedah tuduhan tersebut dalam tiga faset meliputi faset terminologi hukum, penafsiran, dan moral-filosofis. Dengan menganalisis kriteria genosida di dalam hukum internasional, penulis berargumen bahwa catatan penaklukan kuno Tanah Perjanjian di Perjanjian Lama tidak memenuhi kriteria ini sehingga penaklukan ini secara keliru telah diklasifikasikan sebagai genosida. Penulis juga mengumpulkan beberapa contoh kekeliruan penafsiran terhadap catatan penaklukan Tanah Perjanjian. Penulis menyetujui bahwa bahasa figuratif-hiperbol merupakan sebuah perangkat sastra yang umum dalam catatan penaklukan kuno dan ideologi perang dipandang sebagai penghukuman ilahi dalam pandangan dunia Timur Dekat Kuno. Kemudian, penulis mengambil Yosua 9-11 sebagai sebuah studi kasus biblikal untuk menunjukkan jurang sejarah-budaya antara konteks Timur Dekat Kuno dari catatan penaklukan dengan konteks kekinian kita. Pada faset terakhir, penulis secara ringkas berargumen bahwa ada pendekatan yang lebih kontekstual yang berdasarkan argumen moral teistik ketimbang tuduhan kaum Ateis Baru.
The purpose of this article is to deliver a critical-multifaceted review against the accusation that the Judeo-Christian God has commanded genocide to Israelites in the conquest of the Promised Land. Correspondingly, I try to reconsider what matters essentially in the accusation and dissect the accusation into three facets, included legal terminology, interpretive and moral-philosophical facets. By analyzing the criteria of genocide in international law, I argue that the ancient conquest account of the Promised Land in Old Testament dissatisfies these criteria, thus the conquest was incorrectly classified as genocide. I also gather some examples of misinterpretation of the conquest account of the promised land. I agree that the figurative-hyperbolic language as a common literary feature in the ancient conquest account and the ideology of war viewed as the divine retribution in ancient near eastern worldview. Then, I take Joshua chapters 9-11 as a biblical case study to demonstrate historical-cultural gaps between the ancient near eastern context of the conquest account and our present context. In the last facet, I tersely argue that there is a more contextual approach based on theistic moral argument instead of the New Atheist accusation.
References
Archer, Gleason L. New International Encyclopedia of Bible Difficulties. Grand Rapids: Zondervan, 1982.
Beier, Matthias. "The Deadly Search For God: Absolute Aggression in the Heritage of the Bible." Dalam A Cry Instead of Justice the Bible and Cultures of Violence in Psychological Perspective, diedit oleh D. Daschke dan D. A. Kille, 131-151. London: T&T Clark International, 2010.
Butler, Trent C. Joshua. World Bible Commentary 7. Dallas: Word, 2002.
Copan, Paul. "Yahweh Wars and the Canaanites: 'Divinely-Mandated Genocide or Corporate Capital Punishment?' Responses to Critics." Philosophia Christi 11, no. 1 (2009): 73-90.
Copan, Paul. Is God A Moral Monster?: Memahami Allah Perjanjian Lama. Diterjemahkan oleh Timotius Fu. Cetakan ke-2. Malang: Literatur SAAT, 2016.
Copan, P. dan M. Flannagan. Did God Really Command Genocide?: Coming to Terms with the Justice of God. Grand Rapids: Baker, 2014.
Cowles, C.S. "The Case for Radical Discontinuity." Dalam Show Them No Mercy: Four Views on God and Canaanite Genocide, diedit oleh Stanley N. Gundry, 11-44. Grand Rapids: Zondervan, 2003.
Cowles, C.S. "A Response to Eugene H. Merrill." Dalam Show Them No Mercy: Four Views on God and Canaanite Genocide, diedit oleh Stanley N. Gundry, 97-101. Grand Rapids: Zondervan, 2003.
Craigie, Peter C. The Book of Deuteronomy. The New International Commentary on the Old Testament. Grand Rapids: Eerdmans, 1976.
Crouch, C.L. War and Ethics in the Ancient Near East: Military Violence in Light of Cosmology and History. Berlin: Walter De Gruyter, 2009.
Curley, Edwin. "The God of Abraham, Isaac, and Jacob." Dalam Divine Evil?: The Moral Character of the God of Abraham, diedit oleh M. Bergmann, M.J. Murray, dan M.C. Rea, 58-78. New York: Oxford University Press, 2011.
Davis, Dale R. Joshua: No Falling Words. Focus on the Bible Commentary. Fearn: Christian Focus, 2000.
Dawkins, Richard. The God Delusion. London: Bantam, 2006.
Gellately, R. dan Ben Kiernan. The Specter of Genocide: Mass Murder in Historical Perspective. Cambridge: Cambridge University Press, 2003.
Gottwald, Norman K. "Theological Education as A Theory-Praxis Loop: Situating the Book of Joshua in a Cultural, Social Ethical, and Theological Matrix." Dalam The Bible in Ethics: The Second Sheffield Colloqium, diedit oleh John W. Rogerson, M. Davies, dan M.D. Carroll R., 107-118. Sheffield: Sheffield Academic, 1995.
Grudem, Wayne A. Systematic Theology: An Introduction to Biblical Doctrine. Leicester: Inter-Varsity, 1994.
Hawk, L. Daniel. "Conquest Reconfigured: Recasting Warfare in the Redaction of Joshua." Dalam Writing and Reading War: Rhetoric, Gender, and Ethics in Biblical and Modern Contexts, diedit oleh B.E. Kelle dan F.R. Ames, 145-160. Atlanta: Society of Biblical Literature, 2008.
Hess, Richard S. Joshua. Tyndale Old Testament Commentary 6. Nottingham: Inter-Varsity, 1996.
Hess, Richard S. "War in the Bible: An Overview." Dalam War in the Bible and Terrorism in the Twenty-First Century, diedit oleh R.S. Hess dan E.A. Martens, 19-32. Winona Lake: Eisenbrauns, 2008.
Hill, Andrew E. dan J.H. Walton. A Survey of the Old Testament. Grand Rapids: Zondervan, 2009.
Howard Jr., D.M. Joshua. New American Commentary 5. Nashville: Broadman & Holman, 2001.
Jones, Adam. Genocide: A Comprehensive Introduction. London: Routledge, 2006.
Jones, Clay. "We Don't Hate Sin So We Don't Understand What Happened to The Canaanites: An Addendum to 'Divine Genocide' Arguments." Philosophia Christi 11, no. 1 (2009): 53-72.
Klein, W.W., C. Blomberg, R.L. Hubbard, dan K.A. Ecklebarger. Introduction to Biblical Interpretation. Dallas: Word, 1993.
Martin, Elizabeth A. A Dictionary of Law. Oxford: Oxford University Press, 1997.
Matthews, V.H., M.W. Chavalas, dan J.H. Walton. The IVP Bible Background Commentary: Old Testament. Downers Grove: InterVarsity, 2000.
Nelson, Richard D. "Divine Warrior Theology in Deuteronomy." Dalam A God So Near: Essays on Old Testament Theology in Honor of Patrick D. Miller, diedit oleh B.A. Strawn, dan N.R. Bowen, 241-259. Winona Lake: Eisenbrauns, 2003.
Nunpa, C.M. "A Sweet-Smelling Sacrifice: Genocide, the Bible, and the Indigenous Peoples of the United States, Selected Examples." Dalam Confronting Genocide: Judaism, Christianity, Islam, diedit oleh Steven L. Jacobs, 47-63. Lanham: Lexington, 2009.
Patterson, David. "The Philosophical Warrant for Genocide." Dalam Genocide and Human Rights: A Philosophical Guide, diedit oleh John K. Roth, 95-104. New York: Palgrave Macmillan, 2005.
Schabas, William. Genocide in International Law. Cambridge: Cambridge University Press, 2000.
Schaller, D.J. dan Jurgen Zimmerer. Introduction to The Origins of Genocide: Raphael Lemkin as a Historian of Mass Violence, oleh D.J. Schaller dan J. Zimmerer, 1-8. London: Routledge, 2009.
Segesser, D.M. dan M. Gessler. "Raphael Lemkin and The International Debate on The Punishment of War Crimes [1919-1948]." Dalam The Origins of Genocide: Raphael Lemkin as a Historian of Mass Violence, diedit oleh D.J. Schaller dan J. Zimmerer, 9-24. London: Routledge, 2009.
Seibert, Eric A. Disturbing Divine Behavior: Troubling Old Testament Images of God. Minneapolis: Fortress, 2009.
Woudstra, Marten H. The Book of Joshua. The New International Commentary on the Old Testament. Grand Rapids: Eerdmans, 1981.
Younger, K. Lawson. Ancient Conquest Accounts: A Study in Ancient Near Eastern and Biblical History Writing. Journal for the Study of the Old Testament Supplement Series 98. Sheffield: Sheffield Academic, 1990.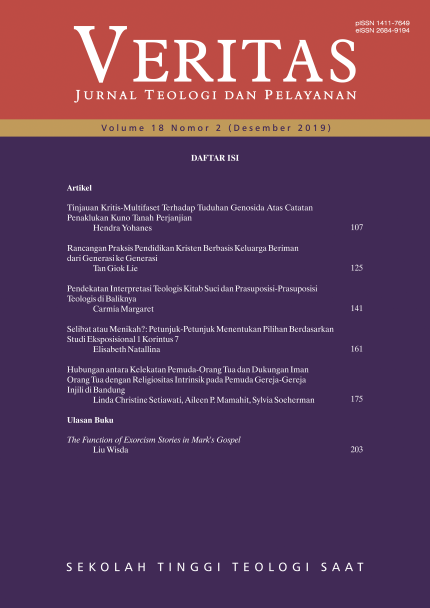 How to Cite
Yohanes, Hendra. "Tinjauan Kritis-Multifaset Terhadap Tuduhan Genosida Atas Catatan Penaklukan Kuno Tanah Perjanjian". Veritas: Jurnal Teologi dan Pelayanan 18, no. 2 (November 28, 2019): 107-123. Accessed July 4, 2020. https://ojs.seabs.ac.id/index.php/Veritas/article/view/332.
Copyright (c) 2019 Veritas : Jurnal Teologi dan Pelayanan
This work is licensed under a Creative Commons Attribution-NonCommercial-NoDerivatives 4.0 International License.
Manuscripts received for publication are copyright of Veritas: Jurnal Teologi dan Pelayanan. Requests to print part or all of the parts must be made to the Editor. The request is not needed if the copy is used for research, lectures, class discussions, personal websites or institutional repositories, but must still include references from Veritas: Jurnal Teologi dan Pelayanan.