Ide Teologis Calvin tentang Keadilan Sosial 
Keywords:
Church and social problems., Calvin, Jean, 1509-1564, Social justice -- Religious aspects -- Christianity.
Abstract
Dalam rangka merayakan 500 tahun John Calvin, aliansi gereja reformed sedunia (World Alliance of Reformed Churches [WARC]) mengajak setiap anggotanya untuk bertindak nyata, misalnya, mengupayakan persatuan gereja, mempromosikan keadilan sosial dan respek terhadap ciptaan, dan melawan perang dan kejahatan. Meskipun bukan bagian dari aliansi ini, saya ingin juga menyambut ajakan tersebut secara positif. Sebagai bagian dari "kaum keturunan Calvin" ("Calvin's descendants") dalam warisan teologi dan berteologinya, saya ingin berpartisipasi di dalam momentum yang sangat istimewa ini. Bukan dengan extravaganza, tetapi dengan suatu tulisan reflektif sederhana tentang sang kakek-buyut dan pemikirannya. Menanggapi salah satu ajakan di atas, tulisan ini berupaya untuk mempromosikan keadilan sosial. Tepatnya, mengenalkan ide teologis Calvin tentang topik tersebut. Upaya ini dilakukan dengan cara merancangbangun ulang (reconstructing) pemikirannya tentang keadilan sosial yang terserak di berbagai sumber, baik sumber-sumber primer maupun sekunder. Sebelum melakukan hal ini, fokus akan lebih dahulu diarahkan pada dua konteks berteologi Calvin: kondisi sosial Jenewa pada abad ke enam belas dan pemikiran-pemikiran para bapa gereja. Diharapkan, dengan mengenal ide teologis Calvin ini, kekristenan Calvinis di Indonesia makin serius dan terlihat greget-nya dalam mewujudkan keadilan sosial di negeri yang, katanya, berazas keadilan sosial ini.
Downloads
Download data is not yet available.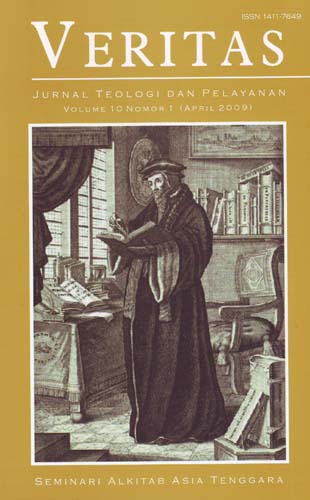 Downloads
How to Cite
Mamahit, Ferry Yefta. "Ide Teologis Calvin Tentang Keadilan Sosial ". Veritas: Jurnal Teologi dan Pelayanan 10, no. 1 (April 1, 2009): 29–58. Accessed December 8, 2023. https://ojs.seabs.ac.id/index.php/Veritas/article/view/211.