Globalisasi, Gereja Injili dan Transformasi Sosial
Keywords:
Globalization -- Religious aspects -- Christianity., Church and social problems.
Abstract
Sebuah penelitian terhadap keprihatinan sosial gereja injili, khususnya terhadap masalah kemiskinan di dua kota besar Jakarta dan Bandung, mengungkapkan bahwa sekitar 20-27% dari seluruh responden telah mengalokasi dana untuk urusan sosial dan itu dilakukan 1-4 kali per tahun, dan kemungkinan hal itu dilakukan secara seremonial, maksudnya dilakukan pada saat perayaan-perayaan gerejawi seperti Paskah, Natal atau acara tertentu. Informasi ini mengisyaratkan betapa kurangnya tanggapan komunitas orang percaya terhadap masalah kemiskinan. Tindakan sosial belum menjadi sebuah "gaya hidup." Di satu sisi, gereja injili memang masih sedang bergumul dengan masalah kekurangpekaan terhadap masalah-masalah sosial, namun, di sisi lain, masalah kemiskinan itu sendiri telah menjadi hal yang tidak dapat dihindari. Celakanya, kemiskinan ini terjadi karena sebuah proses "alamiah" yang tak terelakkan: globalisasi. ... Tulisan ini akan berusaha menjelaskan apa globalisasi itu dan bagaimana dampak-dampak negatif yang dihasilkannya, khususnya dalam bidang sosioekonomi. Selanjutnya, pembahasan akan ditujukan kepada bagaimana sikap gereja sejauh ini dan apa yang menyebabkan sikap seperti itu terjadi. Akhirnya, tulisan ini akan mengusulkan semacam kerangka konseptual teologis (conceptual theological framework) sederhana, bagaimana gereja injili dapat menjadi agen perubahan (transformasi) sosial di tengah-tengah gelombang globalisasi dengan segala akibatnya yang tak terbendung itu. Sementara banyak orang di Indonesia dan sebagian negara-negara miskin dan berkembang menghadapi dampak sosioekonomis globalisasi, diharapkan melalui tulisan ini, gereja-gereja injili dapat semakin berperan sebagai agen transformasi sosial, yang dapat menyatakan Kristus sebagai Penebus yang membarui dan mentransformasi masyarakat (bdk. paradigma Christ the Transformer of Culture dari Richard Niebuhr).
Downloads
Download data is not yet available.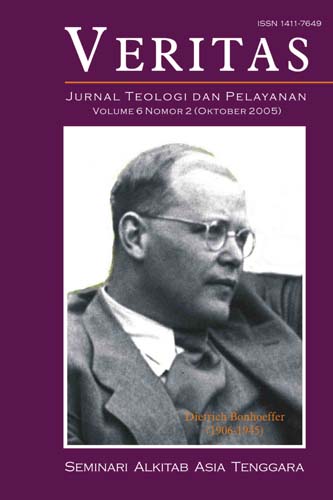 Downloads
How to Cite
Mamahit, Ferry Yefta. "Globalisasi, Gereja Injili Dan Transformasi Sosial". Veritas: Jurnal Teologi dan Pelayanan 6, no. 2 (October 1, 2005): 255–278. Accessed December 7, 2023. https://ojs.seabs.ac.id/index.php/Veritas/article/view/151.