Doktrin Sola Scriptura 
Keywords:
Bible -- Evidences, authority, etc.
Abstract
"Unless I am convinced by Sacred Scripture or by evident reason, I will not recant. My conscience is held captive by the Word of God and to act against conscience is neither right nor safe." Kata-kata ini diucapkan oleh Martin Luther pada 18 April 1521 ketika ia diajukan pada sidang kekaisaran di kota Worms di hadapan kaisar Charles V yang menjadi penguasa Jerman (dan beberapa bagian Eropa lainnya) pada saat itu, serta di hadapan para pemimpin gerejawi. Luther dipanggil ke kota ini dengan tujuan supaya ia menarik kembali perkataan dan pengajarannya. Ia diminta mengaku salah di depan publik untuk apa yang ia tuliskan dan ajarkan tentang injil, keselamatan melalui iman, dan hakikat gereja. Tetapi ia tidak bersedia melakukannya. Mengapa Luther tidak bersedia? Sebab hati nuraninya dikuasai sepenuhnya oleh firman Tuhan. Ia yakin sepenuhnya bahwa Alkitab dengan jelas mengajarkan kebenaran tentang manusia, jalan keselamatan, dan kehidupan Kristen. Ia melihat bahwa kebenaran-kebenaran yang penting ini sudah dikaburkan dan diselewengkan oleh gereja-gereja pada saat itu, yang seharusnya justru menjadi pembela yang setia. Di mata Luther, dasar penyelewengan gereja pada saat itu adalah pengajaran yang tidak sesuai dengan Alkitab. Ia tidak dapat tahan lagi melihat kerusakan gereja yang telah melawan Alkitab, yang juga sudah mencemari aspek-aspek kehidupan gereja lainnya. Di sinilah kita melihat sikap Reformasi terhadap Alkitab. Prinsip penting yang ditegakkan dalam gerakan Reformasi adalah Sola Scriptura (hanya percaya kepada apa yang dikatakan oleh Alkitab yang adalah firman Tuhan, karena hanya Alkitab yang memiliki otoritas tertinggi). Kita mengetahui dua ungkapan yang mewakili gerakan Reformasi yaitu Sola Fide dan Sola Scriptura. Sering dikatakan bahwa Sola Fide adalah prinsip material dari pengajaran Reformasi, sedangkan Sola Scriptura adalah prinsip formalnya. Kalau ditelusuri lebih dalam lagi maka jelaslah bahwa prinsip Sola Scriptura ada di balik semua perdebatan mengenai pembenaran melalui iman, karena Luther yakin sekali bahwa kebenaran ini diajarkan di dalam Alkitab.
Downloads
Download data is not yet available.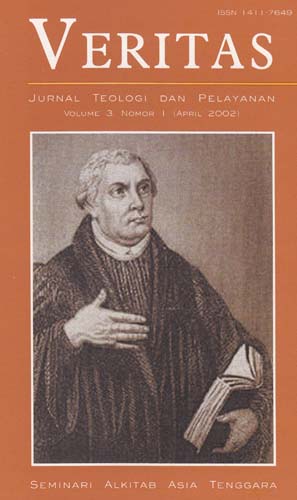 How to Cite
Hartopo, Yohanes Adrie. "Doktrin Sola Scriptura ". Veritas: Jurnal Teologi dan Pelayanan 3, no. 1 (April 1, 2002): 1–13. Accessed December 7, 2023. https://ojs.seabs.ac.id/index.php/Veritas/article/view/77.