Pendidikan yang Bergumul untuk Shalom 
Keywords:
Christian education -- Philosophy.
Abstract
Pendidikan ... memerlukan arah. Sebab jika hal itu tertuju kepada arah yang salah, maka semua persiapannya menjadi sia-sia. Nicholas Wolterstorff menyatakan bahwa pendidikan harus tertuju kepada hidup dan hidup harus tertuju pada shalom. Dasar dari argumentasinya adalah wahyu Allah, karena Allah telah menyingkapkan kebenaran mengenai kisah hidup, kisah kemanusiaan, dan di dalam kisah itu shalom adalah maksud utama dari Allah sang pencipta agar seluruh dunia menikmatinya. Shalom "is more genuinely the content that biblical writers give to destiny appointed to us by God; our appointed destiny incorporates living in human community in the midst of nature."
Downloads
Download data is not yet available.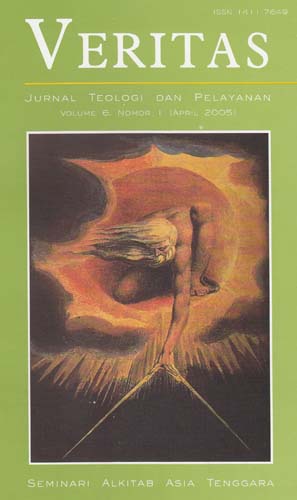 Downloads
How to Cite
Yang, Ferry. "Pendidikan Yang Bergumul Untuk Shalom ". Veritas: Jurnal Teologi dan Pelayanan 6, no. 1 (April 1, 2005): 103–116. Accessed February 5, 2023. https://ojs.seabs.ac.id/index.php/Veritas/article/view/142.