Kerajaan Allah: Sebuah Tinjauan Eksegesis
Keywords:
Kingdom of God.
Abstract
Pemahaman mengenai kerajaan Allah adalah pemahaman yang tidak boleh diabaikan oleh pengikut Kristus. Di dalam diskusi dan telaah mengenai kerajaan Allh, menurut N.T. Wright, kita sering melupakan pembahasan tentang bagaimana Allah menjadi Raja di dalam Yesus Kristus. Ini disebabkan pembacaan kitab-kitab Injil yang sudah dibatasi oleh kerangka berpikir seturut kredo-kredo gerejawi, seperti Pengakuan Iman Rasuli misalnya. Di dalam artikel ini, pembahasan mengenai kerajaan Allah dipandang secara lebih utuh sesuai dengan maksud awal dari penulisan kitab-kitab Injil, secara khusus dari kitab Matius. Pembahasan juga dilakukan mengikuti jalur naratif Perjanjian Lama yang menjadi latar belakang naratif kitab-kitab Injil.
Downloads
Download data is not yet available.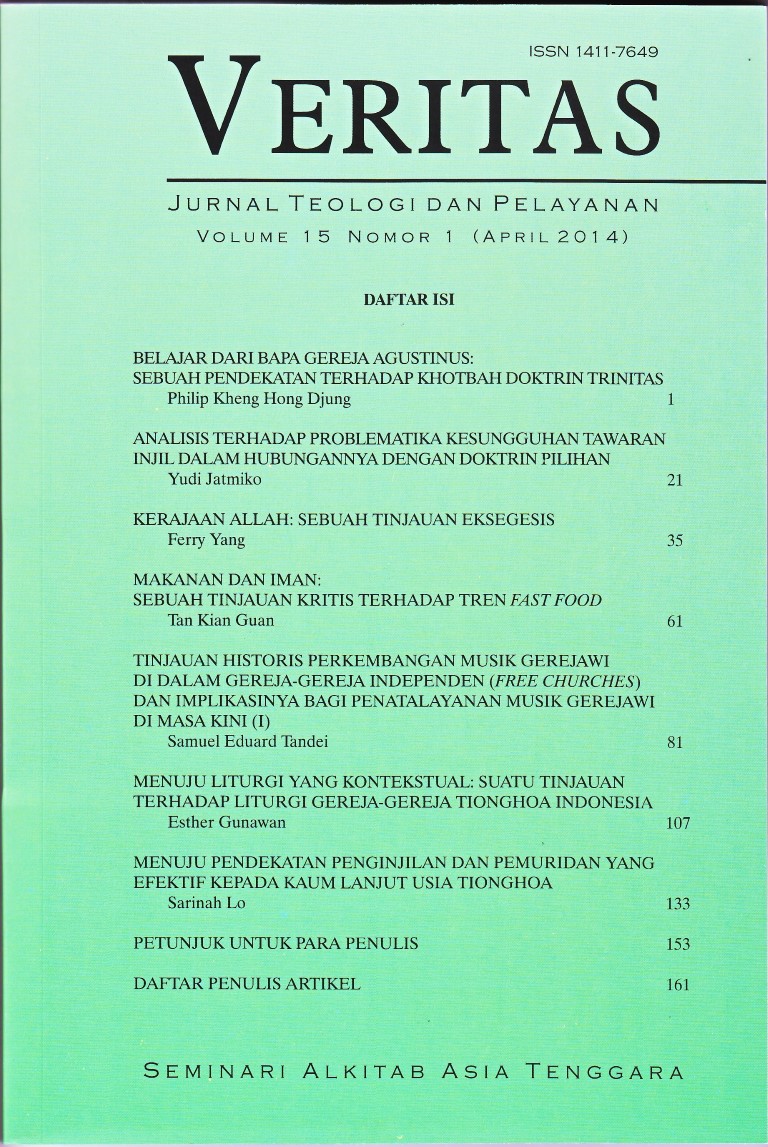 Downloads
How to Cite
Yang, Ferry. "Kerajaan Allah: Sebuah Tinjauan Eksegesis". Veritas: Jurnal Teologi dan Pelayanan 15, no. 1 (April 1, 2014): 35–60. Accessed February 4, 2023. https://ojs.seabs.ac.id/index.php/Veritas/article/view/292.