Anugerah Demi Anugerah Tuhan sebagai Respons atas Kegagalan Demi Kegagalan Manusia : Suatu Upaya untuk Mengerti Berita Kitab Hakim-Hakim Berdasarkan 2:6 - 3:6
Keywords:
Grace (Theology), Bible. Judges, II,6-III,6 -- Criticism, interpretation, etc.
Abstract
Puji syukur kepada Tuhan yang telah memimpin Seminari Alkitab Asia Tenggara selama 50 tahun ini. Dalam rangka peringatan Jubileum ini kita akan mempelajari satu bagian yang mengungkapkan anugerah Tuhan dalam Perjanjian Lama, yaitu kitab Hakim-hakim. Lebih khusus lagi kita akan meneliti Hakim-hakim 2:6-3:6 yang merupakan bagian penting untuk mengerti berita kitab ini. Mark O'Brien menulis, "The abiding issue in the book of Judges seems to be the relationship between the individuality of the stories and the formulaic quality of 2:1-3:6 and the framework passages. Whether one approaches the text from a diachronic or a synchronic perspective, these differences have to be acknowledges and an explanation offered." Melalui artikel ini saya ingin mengusulkan bahwa berita kitab Hakim-hakim adalah: Anugerah demi anugerah TUHAN sebagai respon atas kegagalan demi kegagalan manusia. Kata "anugerah" dan "kegagalan" memang sengaja diulang. Hal ini menekankan kegagalan yang terus berulang dari bangsa Israel untuk tetap setia kepada TUHAN di tanah perjanjian. Sebaliknya, TUHANpun terus menerus meresponi kegagalan ini dengan anugerahnya. Artikel ini dibagi dalam dua bagian besar. Pertama, kita akan melihat bagaimana kitab Hakim-hakim menggambarkan kegagalan umat Israel. Kedua, barulah kita meneliti Hakim-hakim 2:6-3:6.
Downloads
Download data is not yet available.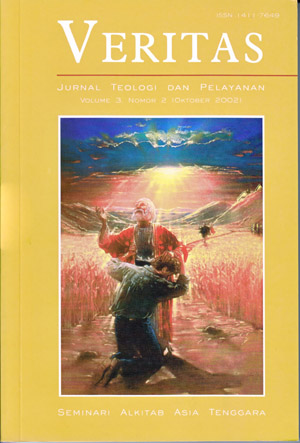 Downloads
How to Cite
Maleachi, Martus Adinugraha. "Anugerah Demi Anugerah Tuhan Sebagai Respons Atas Kegagalan Demi Kegagalan Manusia : Suatu Upaya Untuk Mengerti Berita Kitab Hakim-Hakim Berdasarkan 2:6 - 3:6". Veritas: Jurnal Teologi dan Pelayanan 3, no. 2 (December 1, 2002): 135–147. Accessed March 29, 2023. https://ojs.seabs.ac.id/index.php/Veritas/article/view/98.