Firdaus yang Terhilang? : Suatu Studi Perbandingan Mengenai Kristologi dan Imaji Penciptaan Baru Dalam Injil Yohanes dan Injil Tomas
Keywords:
Jesus Christ -- Person and offices., Eschatology., Gospel of Thomas (Coptic Gospel)
Abstract
Firdaus yang terhilang dan Firdaus yang dipulihkan. Satu Pribadi Agung datang memulihkannya. Kapan? Di mana? Apakah Firdaus itu benar-benar ada? Jika benar-benar ada, sudahkah kita menikmati Firdaus baru itu? Keempat Injil kanonik mewartakan kehadiran Kristus sebagai Mesias, Pemimpin Kerajaan Allah; namun kita masih diperhadapkan pada problem apakah Firdaus telah dipulihkan. Masalah semakin pelik sebab di zaman kita membanjir varian-varian kekristenan bercorak eskapisme dualistis. ... Penulis akan memusatkan perhatian pada masalah semula, yakni apakah "Firdaus" telah dipulihkan. Pemulihan Firdaus sangat erat terkait dengan penciptaan baru. Bilamanakah dan bagaimanakah hal itu terjadi? ... Dalam penelitian ini, penulis memilih untuk menyelesaikan masalah bukan dari sudut dogmatika, tetapi meruntut argumentasi Pagels dan Injil Tomas mengenai kosmologi Kejadian 1. Penulis berusaha mengungkapkan kontinuitas maupun diskontinuitas dari tradisi kosmologi Yahudi yang menurun kepada Tomas dan Yohanes, dan dari sini penulis berharap mampu menyajikan kesenjangan-kesenjangan teori Pagels secara "objektif."
Downloads
Download data is not yet available.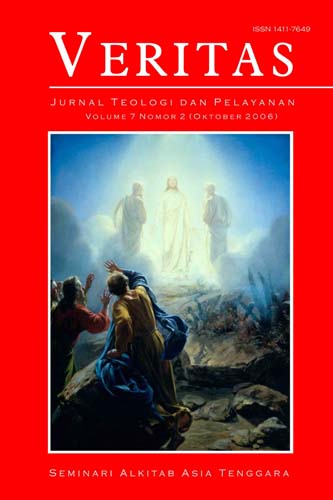 Downloads
How to Cite
Sasongko, Nindyo. "Firdaus Yang Terhilang? : Suatu Studi Perbandingan Mengenai Kristologi Dan Imaji Penciptaan Baru Dalam Injil Yohanes Dan Injil Tomas". Veritas: Jurnal Teologi dan Pelayanan 7, no. 2 (October 1, 2006): 241–282. Accessed June 4, 2023. https://ojs.seabs.ac.id/index.php/Veritas/article/view/179.