Menikmati Surga: Tradisi Mistik dalam Injil Tomas dan Yohanes
Keywords:
Mysticism, Gospel of Thomas (Coptic Gospel), Bible. John -- Criticism, interpretation, etc.
Abstract
Dalam artikel ini, penulis akan menempatkan Injil Tomas dan Yohanes dalam konteks tradisi mistik Yudaisme pada era Bait Suci Kedua. Penulis berpijak pada tesis yang diletakkan oleh B. McGinn dalam karya monumentalnya, The Foundations of Mysticism: Origins to the Fifth Century, bahwa "The mystical element in Christianity is that part of its belief and practices that concerns the preparation for, the consciousness of, and the reaction to what can be described as the immediate or direct presence of God." Definisi ini sendiri mengindikasikan bahwa di dalam Kristianitas terdapat elemen-elemen mistik, namun hal-hal ini pun dipakai menjadi sarana untuk merespons konteks mistik yang beredar di zamannya. Di satu sisi, penulis mendekat dengan Pagels bahwa kedua injil ditulis dalam tempo yang tidak terlampau berjauhan serta menjawab teka-teki apakah Tomas dan Yohanes merupakan dua injil yang tengah berkonfrontasi. Kendati begitu, di sisi lain, penulis akan lebih menjauh dari Pagels, oleh sebab tidak cukupnya latar belakang yang ia sajikan, terbungkus dengan bias (de)konstruksinya terhadap keyakinan Kristen yang menyejarah. Penulis tidak dapat menerima anjuran Pagels untuk memprioritaskan Tomas ketimbang Yohanes.
Downloads
Download data is not yet available.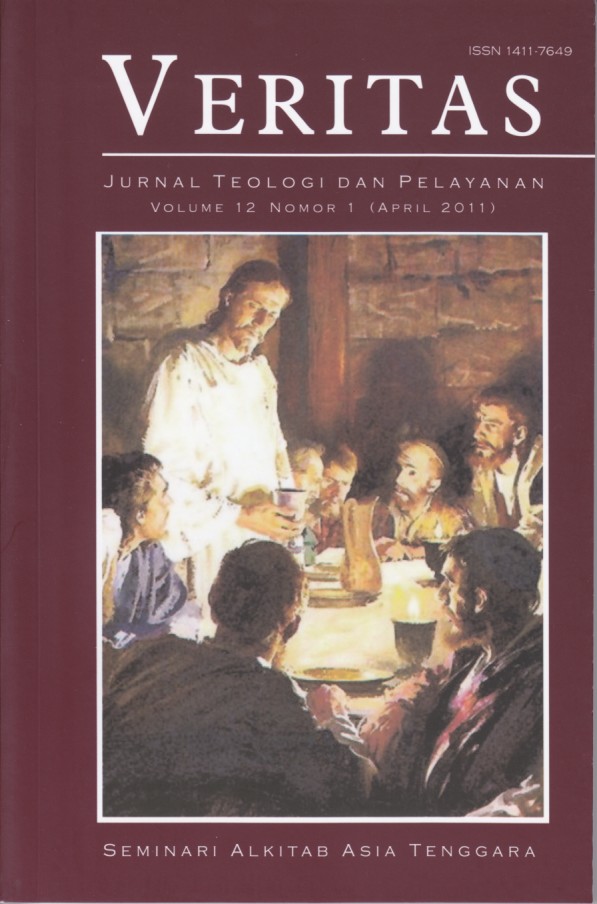 Downloads
How to Cite
Sasongko, Nindyo. "Menikmati Surga: Tradisi Mistik Dalam Injil Tomas Dan Yohanes". Veritas: Jurnal Teologi dan Pelayanan 12, no. 1 (April 1, 2011): 109–122. Accessed June 4, 2023. https://ojs.seabs.ac.id/index.php/Veritas/article/view/236.