Restitusi Kontra Reformasi? : Reformasi Zurich Dan Kelahiran Si Anak Tiri
Keywords:
Reformation -- Switzerland -- Zurich., Reformation
Abstract
"Sayap Kiri Reformasi," demikianlah Roland H. Bainton, sejarawan Amerika ternama, menamai gerakan yang memisahkan diri dari Reformasi "resmi" di Zürich, Swiss. Ternyata bukan hanya sebutan di atas yang diberikan, gerakan ini juga disebut sebagai "Reformasi Radikal" (istilah George H. Williams, Profesor Sejarah Gereja dari Universitas Harvard). Gerakan tersebut secara umum dikenal sebagai Anabaptisme. Sejak kelahirannya di kota Zürich, gerakan ini dianggap sebagai bidat, sempalan dari gerakan Reformasi yang benar. Karena itu, tidaklah mengherankan bila gerakan ini sangat dibenci baik oleh gereja Katolik Roma maupun para Reformator. Kebencian itu terwujud dalam bentuk penganiayaan selama sekitar 200 tahun. Inti masalah yang dilupakan ialah latar belakang yang membidani lahirnya gerakan ini. Sitz im Leben yang disajikan dalam literatur-literatur sejarah gereja yang dipakai di sekolah-sekolah tinggi teologi di luar negeri maupun di Indonesia sering kali berat sebelah. Sebagaimana diungkapkan oleh almarhum William R. Estep, Jr., Profesor Sejarah Gereja dari Southwestern Baptist Theological Seminary, "Perhaps there is no group within Christian History that has been judged unfairly as the Anabaptists of the sixteenth century." Bahkan hingga kini, Anabaptisme masih dipandang sebagai sempalan terhadap ortodoksi, ajaran yang alkitabiah. Kurangnya literatur yang membahas awal mula berdirinya gerakan ini mendorong penulis untuk membuka kembali catatan-catatan sejarah. Membuka kembali catatan sejarah bisa jadi menguak kesalahan pihak lain. Tetapi di sini penulis sama sekali tidak bermaksud memojokkan pihak mana pun. Sumber-sumber utama yang penulis pakai berasal dari para pakar sejarah gereja non-Anabaptis yang telah melakukan riset terhadap gerakan ini secara intensif. Mengingat luasnya permasalahan, maka penulis hanya memfokuskan pemaparan pada peristiwa sekitar Reformasi yang dipelopori oleh Zwingli di Swiss tahun 1519 hingga Januari 1525 dan problem yang terjadi sehingga kaum "radikal" ini memilih untuk memisahkan diri dari garis utama Reformasi. Pertama-tama, label yang dikenakan kepada gerakan ini perlu mendapat penjernihan. Kemudian, penulis akan memaparkan peristiwa Reformasi Zwingli yang dilanjutkan dengan kelahiran "si anak tiri."
Downloads
Download data is not yet available.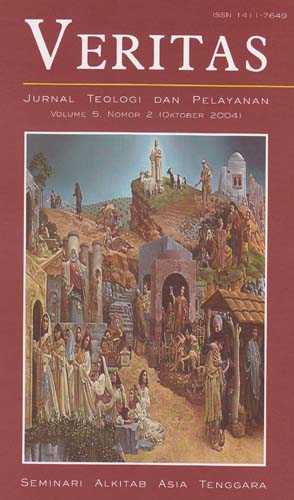 Downloads
How to Cite
Sasongko, Nindyo. "Restitusi Kontra Reformasi? : Reformasi Zurich Dan Kelahiran Si Anak Tiri". Veritas: Jurnal Teologi dan Pelayanan 5, no. 2 (October 1, 2004): 213–223. Accessed November 29, 2023. https://ojs.seabs.ac.id/index.php/Veritas/article/view/131.