Mencermati Perjalanan Integrasi Psikologi dan Teologi : Lajang, Nikah, Cerai? 
Keywords:
Christianity -- Psychology, Psychology and religion.
Abstract
Mencermati relasi antara psikologi dan teologi, tidak bisa tidak, saya teringat akan relasi suami-istri pada umumnya: ada yang mesra dan penuh perhatian, ada yang berseteru bak musuh bebuyutan, dan ada yang tidak acuh satu sama lain. Ironisnya, sesungguhnya keduanya merupakan "sumber hikmat dan pengertian tentang kehidupan manusia," yang mempunyai cukup banyak kesamaan. … Sampai pada abad 19, psikologi masih dipandang sebagai ilmu yang berdampingan dengan agama, namun mulai abad 20 sekularisme sudah mendominasi psikologi. Tampaknya ini adalah titik awal ketidakpastian relasi antara dua ilmu ini dan upaya integrasi mengemuka dari relasi yang ambivalen ini.
Downloads
Download data is not yet available.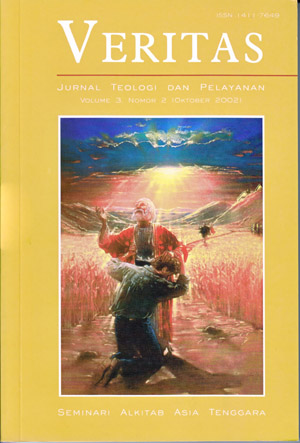 Downloads
How to Cite
Gunadi, Paul. "Mencermati Perjalanan Integrasi Psikologi Dan Teologi : Lajang, Nikah, Cerai? ". Veritas: Jurnal Teologi dan Pelayanan 3, no. 2 (October 1, 2004): 255–267. Accessed August 20, 2022. https://ojs.seabs.ac.id/index.php/Veritas/article/view/88.