Selamat Datang Psikologi!
Keywords:
Psychology and religion., Christianity -- Psychology
Abstract
Sewaktu saya sedang berkuliah, seseorang pernah bertanya kepada ibu saya mengenai bidang studi apa yang sedang saya pelajari.  Setelah mendengar jawaban bahwa saya sedang belajar psikologi, dengan serta merta ia menasehati ibu saya bahwa psikologi adalah ilmu yang melawan Tuhan dan sebaiknyalah saya menempuh bidang ilmu yang lain.  Lebih dari 20 tahun kemudian, komentar tersebut tetap mewakili sebagian pandangan orang Kristen terhadap psikologi.  Namun demikian, dengan rasa syukur saya harus mengatakan bahwa sambutan gereja-gereja terhadap sumbangsih ilmu psikologi pada umumnya adalah positif.  Seminari pun telah merangkul disiplin ilmu ini dan memasukkannya sebagai mata kuliah ke dalam kurikulum pendidikan teologi.
Downloads
Download data is not yet available.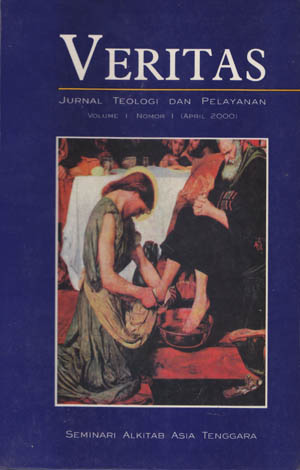 Downloads
How to Cite
Gunadi, Paul. "Selamat Datang Psikologi!". Veritas: Jurnal Teologi dan Pelayanan 1, no. 1 (April 1, 2000): 99–104. Accessed November 28, 2022. https://ojs.seabs.ac.id/index.php/Veritas/article/view/24.