Analisis terhadap Problematika Kesungguhan Tawaran Injil dalam Hubungannya dengan Doktrin Pilihan
Keywords:
Predestination., Election (Theology), Salvation., Evangelism.
Abstract
Korelasi antara doktrin pilihan dan kesungguhan tawaran Injil menimbulkan problematika: jika Allah telah memilih hanya sebagian orang untuk diselamatkan, mungkinkah Ia menawarkan pertobatan itu kepada semua orang dan mengharapkan dengan sungguh-sungguh pertobatan mereka? Tidakkah kedua hal ini, pilihan Allah atas sebagian orang dan kesungguhan tawaran Injil-Nya bagi semua orang, kontradiktif? Berdasarkan analisis dari berbagai sumber, penulis menyimpulkan bahwa kesungguhan tawaran Injil tidak berkontradiksi dengan doktrin pilihan. Harmoni di antara keduanya sesuai dengan Canons of Dort sebagai salah satu pengakuan iman Reformed, hasil pembuktian eksegesis beberapa bagian Alkitab, dan studi mengenai kehendak Allah yang tersembunyi dan dinyatakan.
Downloads
Download data is not yet available.
References
Bauckham, Richard J. Jude, 2 Peter. World Biblical Commentary. Dallas: Word, 1986.
Berkhof, L. Systematic Theology. Grand Rapids: Eerdmans, 1988.
Blacketer, Raymond A., "The Three Points in Most Parts Reformed: A Reexamination of the So-Called Well-Meant Offer of Salvation." Calvin Theological Journal 35/1 (April 2000) 37-65.
Block, Daniel I. The Book of Ezekiel. New International Commentary on the Old Testament. Grand Rapids: Eerdmans, 1997.
Calvin, John. Calvin's Commentaries: Commentaries on Ezekiel. Grand Rapids: Baker, 2005.
Calvin, John. Commentaries on The Second Epistle of Peter. Grand Rapids: Baker, 2005.
De Jong, A. C. The Well-Meant Offer: The Views of H. Hoeksema and K. Schilder. Franeker: T. Wever, 1954.
Duguid, Ian M. Ezekiel. NIV Application Commentary. Grand Rapids: Zondervan, 1999.
Elwell, Walter A. ed. Evangelical Dictionary of Theology. Grand Rapids: Baker, 1990.
Girod, Gordon. The Deeper Faith: An Exposition of the Canons of the Synod of Dort. Grand Rapids: Baker, 1978.
Hoekema, Anthony A. Saved by Grace. Grand Rapids: Eerdmans, 1994.
Hoeksema, H. Reformed Dogmatics. Grand Rapids: Reformed Free, 1985.
Hoeksema, H. Whosoever Will. Grand Rapids: Eerdmans, 1945.
Moo, Douglas J. 2 Peter, Jude. NIV Application Commentary. Grand Rapids: Zondervan, 1996.
Pratt, Richard L. Jr., ed. NIV Spirit of Reformation Study Bible. Grand Rapids: Zondervan, 2003.
Sproul, R. C. Essential Truth of the Christian Faith. Illinois: Tyndale, 1992.
Spurgeon, Charles H. "The Wailing of Risca" dalam The New Park Street and Tabernacle Pulpit. Pasadena: Pilgrim, 1969.
Strong, A. H. Systematic Theology. Valley Forge: The Judson, 1967.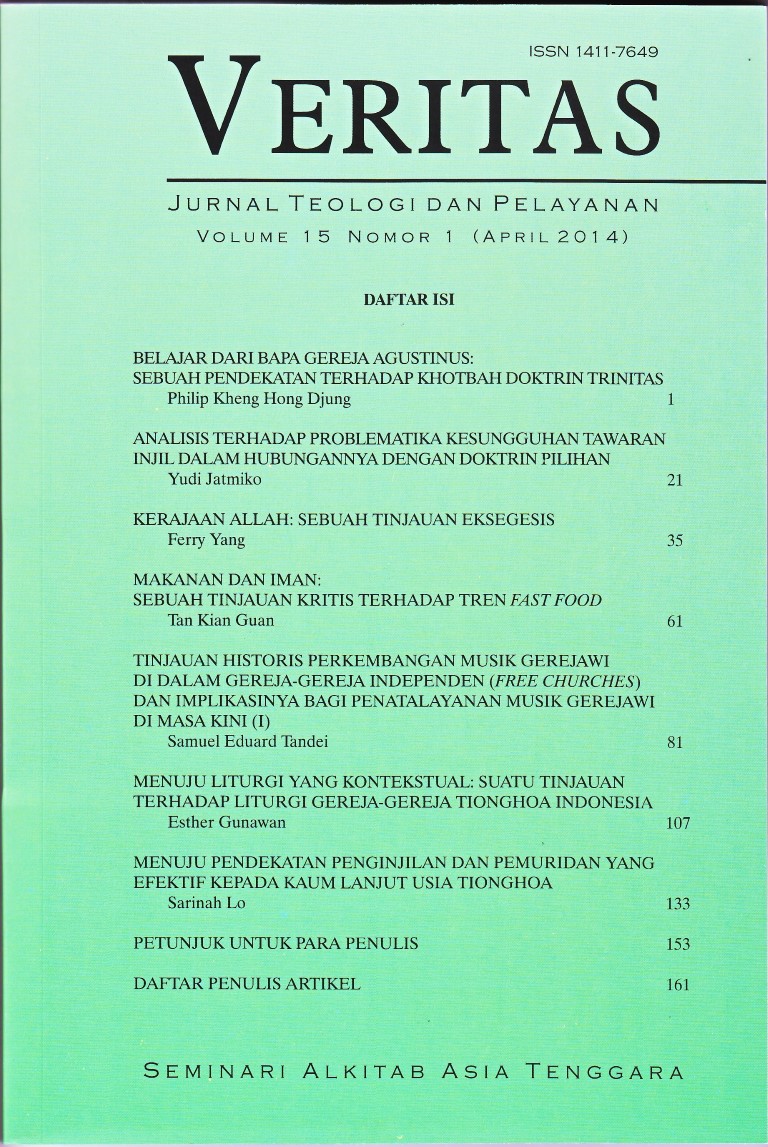 Downloads
How to Cite
Jatmiko, Yudi. "Analisis Terhadap Problematika Kesungguhan Tawaran Injil Dalam Hubungannya Dengan Doktrin Pilihan". Veritas: Jurnal Teologi dan Pelayanan 15, no. 1 (April 1, 2014): 21–34. Accessed March 23, 2023. https://ojs.seabs.ac.id/index.php/Veritas/article/view/293.