"KASKUS" - Forum Komunitas Dalam Jaringan: Sebuah Refleksi Teologi dan Budaya
Keywords:
Online social networks -- Religious aspects -- Christianity.
Abstract
Kekristenan sebagai komunitas tubuh Kristus telah diperhadapkan dengan forum komunitas dalam jaringan (daring) yang merebak saat ini, termasuk "Kaskus", forum komunitas daring terbesar di Indonesia. Berkat kemajuan teknologi, kebutuhan dan kehausan manusia untuk bisa terhubung satu dengan yang lain menjadi semakin tidak terbatasi oleh jarak, ruang dan waktu. Di satu sisi, hal ini merupakan sebuah kesempatan bagi kekristenan untuk mengambil bagian dalam memengaruhi dunia komunitas daring dengan nilai-nilai kristiani. Namun, di sisi lain, ini merupakan tantangan bagi kekristenan untuk menghadirkan sebuah relasi yang penuh dengan kehangatan, kasih dan kebenaran di dalam komunitas tubuh Kristus, melampaui apa yang ditawarkan oleh forum komunitas daring.
Downloads
Download data is not yet available.
References
Bailey, Justin A. "Welcome to the Blogosphere." Dalam Everyday Theology: How to Read Cultural Texts and Interpret Trends. Eds. Kevin J. Vanhoozer, Charles A. Anderson, dan Michael J. Sleasman. Grand Rapids: Baker, 2007.
Bolsinger, Tod. "Blog as Microvawe Community." Dalam The New Media Frontier: Blogging, Vlogging and Podcasting for Christ. Eds. John Mark Reynolds dan Roger Overton. Wheaton Crossway, 2008.
Chandra, Robby I. Menatap Benturan Budaya: Budaya Kota Kawula Muda dan Media Modern. Jakarta: Binawarga, 1998.
Endah, Alberthiene. Ken dan Kaskus: Cerita Sukses di Usia Muda. Jakarta: Gramedia, 2013.
Harkness, Allan. "The Media: Help or Hindrance for Christian Faith Formation." Church & Society 4/2 (August 2001): 67-80.
Heuken, Adolf. Spiritualitas Kristiani: Pemekaran Hidup Rohani Selama Dua Puluh Abad. Jakarta: Cipta Loka Caraka, 2002.
Schultze, Quentin J. dan Robert H. Woods Jr,. "Getting the Conversation Going about Media and Culture." Dalam Understanding Evangelical Media: The Changing Face of Christian Communication. Eds. Quentin J. Schultze dan Robert H. Woods Jr. Downers Grove: InterVarsity, 2008.
Taylor, Barry. Entertaintment Theology: New-Edge Spirituality in A Digital Democracy. Grand Rapids: Baker, 2008.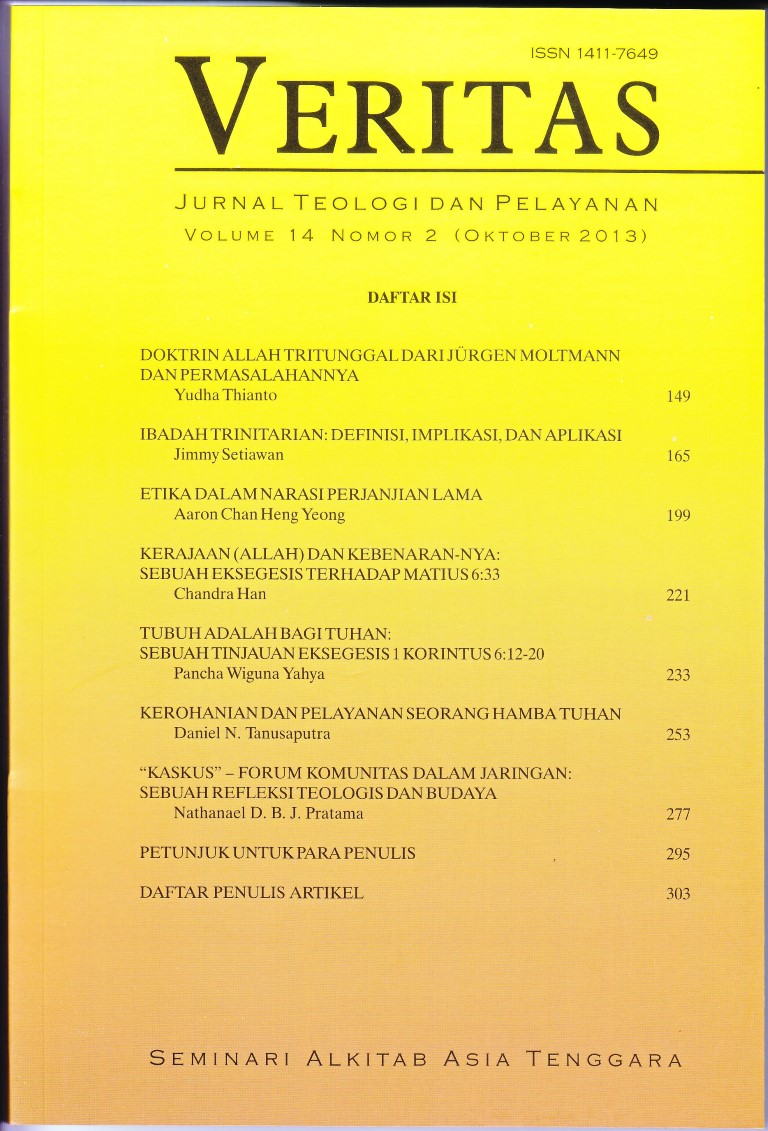 Downloads
How to Cite
Pratama, Natanael D. B. J. ""KASKUS&Quot; - Forum Komunitas Dalam Jaringan: Sebuah Refleksi Teologi Dan Budaya". Veritas: Jurnal Teologi dan Pelayanan 14, no. 2 (October 1, 2013): 277–296. Accessed June 25, 2022. https://ojs.seabs.ac.id/index.php/Veritas/article/view/280.