Meninjau The Da Vinci Code dari Sudut Teologi yang Sehat
Keywords:
Brown, Dan, 1964-. Da Vinci code., Brown, Dan, 1964- -- Criticism and interpretation., Mary Magdalene, Saint -- In literature., Jesus Christ -- In literature., Christianity in literature.
Abstract
Pada tanggal 15 Mei 2006 Sony Pictures Entertaintment—sebuah perusahaan film di Hollywood, Amerika Serikat—akan mengeluarkan film yang berjudul The Da Vinci Code (selanjutnya disingkat DVC). Film ini dibuat berdasarkan sebuah buku laris, yang terbit tahun 2003, yang sudah terjual 30 juta copy di seluruh dunia dan yang sudah diterjemahkan ke dalam 44 bahasa. Aslinya buku ini adalah sebuah novel yang ditulis oleh Dan Brown, seorang yang berkebangsaan Inggris. Buku ini sedemikian laris dan Brown sendiri menjadi kaya raya karena dari karya ini ia telah memperoleh sekitar 45 juta poundsterling (kira-kira 650 milyar rupiah). Bahkan juga ada orang dari kalangan agama bukan Kristen yang ikut-ikutan menerbitkan atau memperbanyak buku ini dalam berbagai bahasa dengan tujuan, tentu saja, menyerang jantung kekristenan, yaitu berkenaan dengan Yesus Kristus dan juga keabsahan Alkitab, yang adalah firman Allah. Karena akan beredar dan bulan Juni-Juli 2006 akan diputar di seluruh dunia, film ini akan menjadi daya tarik bagi banyak orang, terutama orang-orang yang berkepentingan atau orang-orang yang meragukan iman Kristen. Dalam artikel ini saya akan langsung memaparkan beberapa poin yang disebutkan di dalam buku DVC, sebagai poin yang langsung berkenaan dengan kristologi dan juga bibliologi. Saya akan langsung memberikan tanggapan, tetapi sebelum itu, ada baiknya kita mengenal terlebih dahulu secara singkat apa isi buku tersebut.
Downloads
Download data is not yet available.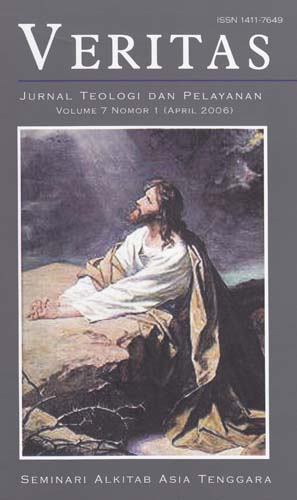 Downloads
How to Cite
Lukito, Daniel Lucas. "Meninjau The Da Vinci Code Dari Sudut Teologi Yang Sehat". Veritas: Jurnal Teologi dan Pelayanan 7, no. 1 (April 1, 2006): 47–61. Accessed March 23, 2023. https://ojs.seabs.ac.id/index.php/Veritas/article/view/161.