Pandangan John Knox tentang Reformasi Gereja dalam Hal Praktikal dan Sakramental
Keywords:
Knox, John, approximately 1514-1572, Sacraments -- History of doctrines, Reformation.
Abstract
Gerakan Reformasi tidak hanya terjadi di Jerman, di mana Martin Luther mencetuskan 95 tesisnya pada 31 Okotober 1517. Negara-negara Eropa lainnya, seperti Skotlandia juga terlibat dalam gerakan ini. Setiap negara memiliki tokoh reformasinya masing-masing yang berusaha agar Gereja kembali berjalan sesuai dan berdasarkan otoritas firman Tuhan. Reformasi di Skotlandia sangat berkaitan erat dengan perkembangan politik di negara itu. Karena itu, untuk memahami reformasi di Skotlandia, maka pertama-tama kita perlu memahami situasi politik saat itu serta kaitannya dengan situasi di dalam gereja. Setelah itu kita akan melihat bagaimana Knox menanggapi situasi politik di sekitarnya, baik secara lisan maupun tulisan. Pemaparan akan difokuskan secara khusus pada hal-hal praktikal di dalam Gereja dan sakramen.
Downloads
Download data is not yet available.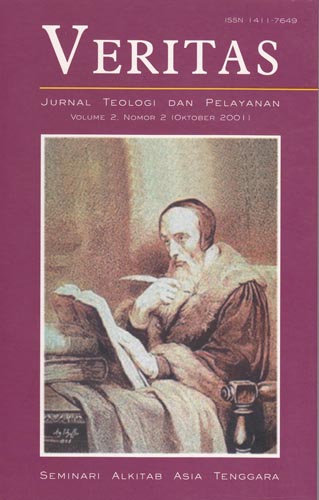 Downloads
How to Cite
Tanudjaja, Rahmiati. "Pandangan John Knox Tentang Reformasi Gereja Dalam Hal Praktikal Dan Sakramental". Veritas: Jurnal Teologi dan Pelayanan 2, no. 2 (October 1, 2001): 209–219. Accessed June 7, 2023. https://ojs.seabs.ac.id/index.php/Veritas/article/view/69.