Evaluasi Kritis Terhadap Doktrin Gereja dari Teologi Pembebasan
Keywords:
Church., Church -- History of doctrines., Liberation theology., Theology, Doctrinal., Gutierrez, Gustavo, 1928-
Abstract
Dalam dekade terakhir ini banyak orang membicarakan Teologi Pembebasan, bukan saja di Amerika Latin tempat asal teologia ini, tetapi juga di Asia dan Afrika. Walaupun Teologi Pembebasan timbul di manamana, namun yang secara "vokal" dan sistematis berbicara tentang Teologi Pembebasan adalah yang berasal dari Amerika Latin. Oleh karena itu, penulisan artikel ini secara khusus akan meninjau pandangan Gustavo Gutierrez, yang merupakan pelopor dan pencetus dasar pemikiran Teologi Pembebasan. Meskipun bermunculan juga teolog yang lain, tetapi dapat dikatakan bahwa Gutierrez-lah pelopor dan pencetus utamanya. Di dalam artikel ini akan disajikan pemahaman dasar Teologi Pembebasan (mulai dari latar belakang munculnya teologi tersebut sampai metode yang digunakan). Secara khusus akan dipaparkan juga pandangan Teologi Pembebasan Gustavo Gutierrez tentang gereja, mengingat cukup banyak gereja tradisional di Indonesia (khususnya di mana hamba-hamba Tuhannya terdidik dengan pola teologi tertentu) yang memegang pandangan-pandangan Teologi Pembebasan. Sebelum melihat sumbangsih Teologi Pembebasan bagi konteks pergumulan orang Kristen di Indonesia, penulis akan memberikan tinjauan terhadap pandangan Teologi Pembebasan berdasarkan Alkitab terlebih dulu.
Downloads
Download data is not yet available.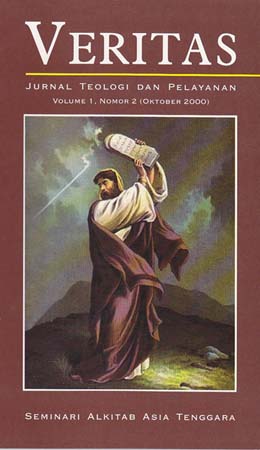 Downloads
How to Cite
., Natalie. "Evaluasi Kritis Terhadap Doktrin Gereja Dari Teologi Pembebasan". Veritas: Jurnal Teologi dan Pelayanan 1, no. 2 (October 1, 2000): 181–191. Accessed December 6, 2023. https://ojs.seabs.ac.id/index.php/Veritas/article/view/40.