Konteks Pelayanan Kristen di Indonesia
Keywords:
Christianity -- Indonesia., Christianity and other religions -- Islam., Islam -- Relations -- Christianity.
Abstract
Tulisan Winfrid Prayogi dalam Veritas edisi yang lalu menggoda saya untuk mempertajam apa yang sudah dibicarakannya, khususnya yang berkaitan dengan situasi pluralitas agama di Indonesia. Apa yang hendak saya pertajam di sini berhubungan dengan konteks Indonesia yang didominasi oleh masyarakat yang beragama Islam. Suka atau tidak suka, harus kita akui bahwa sebenarnya kita tinggal-menetap dan melayani Tuhan di tengah-tengah "masyarakat Islam." Gereja apa pun juga yang ada di bumi Indonesia ini, baik yang berbasis suku atau etnis tertentu maupun yang lintas etnis, tidak bisa tidak harus mempertimbangkan dengan serius kondisi riil Indonesia ini. Sebagai seseorang yang dididik dalam lembaga pendidikan teologi Injili dan beraktivitas di sekitar kota Malang, Jawa Timur, maka pikiran saya ini akan banyak dipengaruhi oleh hal-hal itu. Tesis yang hendak saya ajukan di sini adalah bahwa bila gereja memandang serius panggilannya untuk melayani Tuhan di bumi Indonesia ini maka tidak bisa tidak harus memahami Islam adalah suatu keniscayaan.
Downloads
Download data is not yet available.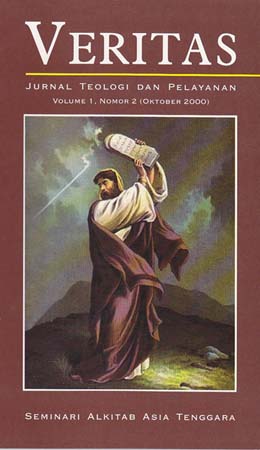 Downloads
How to Cite
Dawa, Markus Dominggus L. "Konteks Pelayanan Kristen Di Indonesia". Veritas: Jurnal Teologi dan Pelayanan 1, no. 2 (October 1, 2000): 193–202. Accessed December 3, 2023. https://ojs.seabs.ac.id/index.php/Veritas/article/view/39.