Ilustrasi Yang Berbentuk Cerita Sebagai Salah Satu Unsur Penting Dalam Khotbah
Keywords:
Sermon, Illustration, A Story Illustration, Human Brain, Communication, Study Theory, Generals, Particulars
Abstract
Ilustrasi sebagai unsur sebuah khotbah selama ini dikenal memiliki peran untuk memperjelas sebuah ide, menarik perhatian pendengar, bahkan juga dapat menggerakkan emosi pendengar. Sekalipun berdasarkan definisinya ilustrasi dapat memiliki berbagai bentuk, tetapi tidak semua bentuk itu memberikan pengaruh yang sama. Ilustrasi yang berbentuk cerita memiliki keunggulan dibandingkan dengan bentuk-bentuk yang lain. Tulisan ini menggali keunggulan dari ilustrasi yang berbentuk cerita berdasarkan studi yang pernah dilakukan berkaitan dengan bagaimana sebuah informasi dapat dengan lebih mudah dipahami oleh penerimanya. Berdasarkan pemahaman tentang cara kerja otak manusia, bagaimana manusia berkomunikasi, bagaimana manusia belajar, bahkan pengamatan dalam khotbah sendiri, menunjukkan bahwa ilustrasi yang berbentuk cerita dapat menjadi alat yang efektif dalam penyampaian sebuah kebenaran.

Kata-kata kunci: Khotbah, Ilustrasi, Ilustrasi yang Berbentuk Cerita, Otak Manusia, Komunikasi, Teori Belajar, Generals, Particulars

An illustration as an element of a sermon has been known to play a role in clarifying an idea, attracting the attention of listeners, and to even move the emotions of the listeners. Even though, by definition, illustrations can take various forms, not all of them have the same effect. Illustrations in the form of stories have certain advantages compared to other forms of illustrations. This paper explores the advantages of illustrations in the form of stories based on studies that have been conducted in relation to how information can be more easily understood by recipients. Based upon an understanding of how the human brain works, how humans communicate, how humans learn, and even observations about the sermon being preached, shows that illustrations in the form of stories can be effective tools for conveying a truth.

Keywords: Sermon, Illustration, A Story Illustration, Human Brain, Communication, Study Theory, Generals, Particulars
Downloads
Download data is not yet available.
References
Bryson, Harold T. Expository Preaching: The Art of Preaching Through a Book of the Bible. Nashville: Broadman & Holman, 1995.
Carter, Terry G., J. Scott Duval, dan J. Daniel Hays. Preaching God's Word. Grand Rapids: Zon-dervan, 2005.
Chapell, Bryan. Using Ilustrations to Preach with Power. Wheaton: Crossway, 2001.
Fasol, Al. Essentials for Biblical Preaching: An Introduction to Basic Sermon Preparation. Grand Rapids: Baker, 1989.
Hergenhahn, B.R. dan Matthew H. Olson, Theories of Learning. Jakarta: Prenada Media Group, 2008.
Kilinger, John. Dasar-dasar Khotbah. Jakarta: Gunung Mulia, 2011.
Koessler, John. "View from the Pew." Dalam The Art and Craft of Biblical Preaching, diedit oleh Haddon Robinson dan Craig Brian Larson, 124-126. Grand Rapids: Zondervan, 2005.
McDill, Wayne. The 12 Essential Skills for Great Preaching. Nashville: Broadman and Holman, 1994.
Nielsen, Glenn. "Preaching Doctrine in a Postmodern Age." Concordia 27/1 (Januari 2001) 17-29.
Piper, John. "God Is Not Boring." http://www.desiringgod.org/articles/god-is-not-boring.
Robinson, Haddon. Biblical Preaching. Grand Rapids: Baker, 1980.
Simmons, Annete. Whoever Tells The Best Story Wins: How to Use Your Own Stories to Communi-cate with Power and Impact. New York: American Management Association, 2007.
Spurgeon, Charles H. "Illustration in Preaching." Dalam The Company of Preachers, diedit oleh Richard Lischer, 316-323. Grand Rapids: Eerdmans, 2002.
Stott, John. Between Two Worlds: The Challenge of Preaching Today. Grand Rapids: Eerdmans, 1982.
Torgesen III, William. "Learning to Tell the Story." Dalam The Moody Handbook of Preaching, diedit oleh John Koessler, 267-278. Chicago: Moody, 2008.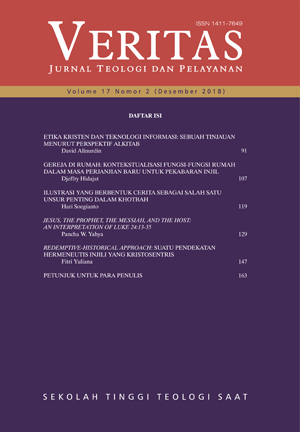 Downloads
How to Cite
Soegianto, Hari. "Ilustrasi Yang Berbentuk Cerita Sebagai Salah Satu Unsur Penting Dalam Khotbah". Veritas: Jurnal Teologi dan Pelayanan 17, no. 2 (December 1, 2018): 119–128. Accessed May 21, 2022. https://ojs.seabs.ac.id/index.php/Veritas/article/view/311.