Kerohanian dan Pelayanan Seorang Hamba Tuhan
Keywords:
Spirituality, Clergy -- Office., Discipline -- Religious aspects -- Christianity.
Abstract
Kerohanian Kristen adalah hidup menurut dan dipimpin oleh Roh Kudus dan merupakan proses yang berlangsung terus-menerus seumur hidup. Kerohanian Kristen tidak dapat dilepaskan dari disiplin rohani, baik melalui pembacaan/perenungan firman Tuhan dan melalui doa atau berteduh di hadapan Tuhan. Karena itu, seorang Kristen atau seorang hamba Tuhan yang menyebut diri "seorang yang rohani" haruslah orang yang hidup di dalam Roh, serta taat dan tunduk di bawah otoritas firman Tuhan.
Downloads
Download data is not yet available.
References
Anton, Ronald D. God's Seven Ways to Ease Suffering. Xulon, 2007.
Bonhoeffer, Dietrich. Nachfolge. Gütersloher Verlagshaus, 2005.
Bonhoeffer, Dietrich. Widerstand und Ergebung: Briefe und Aufzeichnungen aus der Haft. Gütersloher Verlagshaus: Auflage, 1944.
Church, F. Forrester, ed. The Essential Tillich: An Anthology of the Writings of Paul Tillich. Chicago: University of Chicago Press, 1999.
Deichgraeber, R. Die Kunst, Zeit zu haben. Hermannsburg, 1974.
Demarest, B. Soul Guide. Colorado Springs: Nav, 2003.
Eichler, Astrid. "Der eingesperrte Gott." Aufatmen 3 (1998).
Foster, Richard J. Celebration of Dicipline: The Path to Spiritual Growth. New York: Harper & Row, 1978.
Foster, Richard J. dan Emilie Griffin, ed. Spiritual Classics: Selected Readings on the Twelve Spiritual Disciplines. San Francisco: Harper Collins, 2000.
Foster, Richard J. dan Gayle D. Beebe. Longing for God (Merindukan Allah): Tujuh Jalan Devosi Kristen. Terj. Paul Hidayat. Surabaya: Perkantas, 2009.
Griffin, E. Wilderness Time: A Guide for Spiritual Retreat. San Francisco: Harper Collins, 1997.
Grote, G. Die Nachfolge Christi. Olten: Verlag Otto Walter AG, 1947.
Hallesby, O. Vom Beten. Wuppertal: R. Brockhaus Verlag, 1971.
Hybels, Bill. Too Busy Not to Pray. Downers Grove, InterVarsity, 1998.
Hybels, Bill. Honest to God?: Becoming an Authentic Christian. Grand Rapids: Zondervan, 1992.
Kraus, B. Weggeschichten der Bibel: Freie Raume und freie Zeiten, J. H. Schneider. Munich, 1983.
Küng, Hans. De Wahrhaftigkeit – Zukunft der Kirche. Basel: Verlag Herder, 1968.
Longman III, Tremper. Reading the Bible with Heart and Mind. Colorado: Nav, 1997.
McIntosh, G. L. dan Samuel D. Rima. Overcoming the Dark Sides of Leadership: How to Become an Effective Leader by Confronting Potential Failures. Grand Rapids: Baker, 2007.
McLellan, Vernon, ed. Billy Graham: A Tribute from Friends. New York: Warner, 2002.
Murray, A. Abide in Christ. Lakeland, 1977.
Nouwen, Henri. Die Innere Stimme der Liebe. Herder Verlag 5 Aufl., 1998.
Rahner, Karl. Encounters with Silence. Newman, 1960.
Raschzok, Klaus. "Ordination als Berufung und Lebensarbeit: Zu einem vernachlässigten Aspekt gelebter Spiritualität im Pfarrberuf." Theologische Beiträge 33 (2002).
Rienecker, F. Sprachlicher Schluessel zum Griechischen NT. Giessen: Brunnen Verlag, 1987.
Riesner, R. Jesus als Lehrer. Tübingen: J. C. B. Mohr Paul Siebeck 1984.
Schneider, J. Habt Acht auf euch Selbst!. Basel: Brunnen Verlag Giesses, 1953.
Schniewind, Julius O., S. Bibra dan Otto Michel. Vollmacht. Neuhausen-Stuttgart: Hanssler, 1988.
Smith, Timothy Dudley. Authentic Christianity from the Writings of John Stott. Downers Grove: Intrevarsity, 1996.
Tanusaputra, Daniel N. "Mitra Allah yang Otentik: Siapakah Aku pada Saat Seorang Pun Tidak Melihatku?" Dalam Hamba yang Melayani: Sebuah Bunga Rampai dalam Rangka Hari Ulang Tahun ke-80 Pdt. Dr. Peter Wongso. Ed. Daniel L. Lukito, Andreas Hauw, Amy Kho. Malang: Seminari Alkitab Asia Tenggara, 2012.
Trull, J. E. dan J. E. Carter. Ministerial Ethics: Moral Formation for Church Leaders. Grand Rapids: Baker, 2009.
Vanier, Jean. In Gemeinschaft Leben. Wuppertal: R. Brockhaus Verlag, 1993.
Willard, D. Hearing God: Developing a Conversational Relationship with God. Downers Grove: Intervarsity, 1999.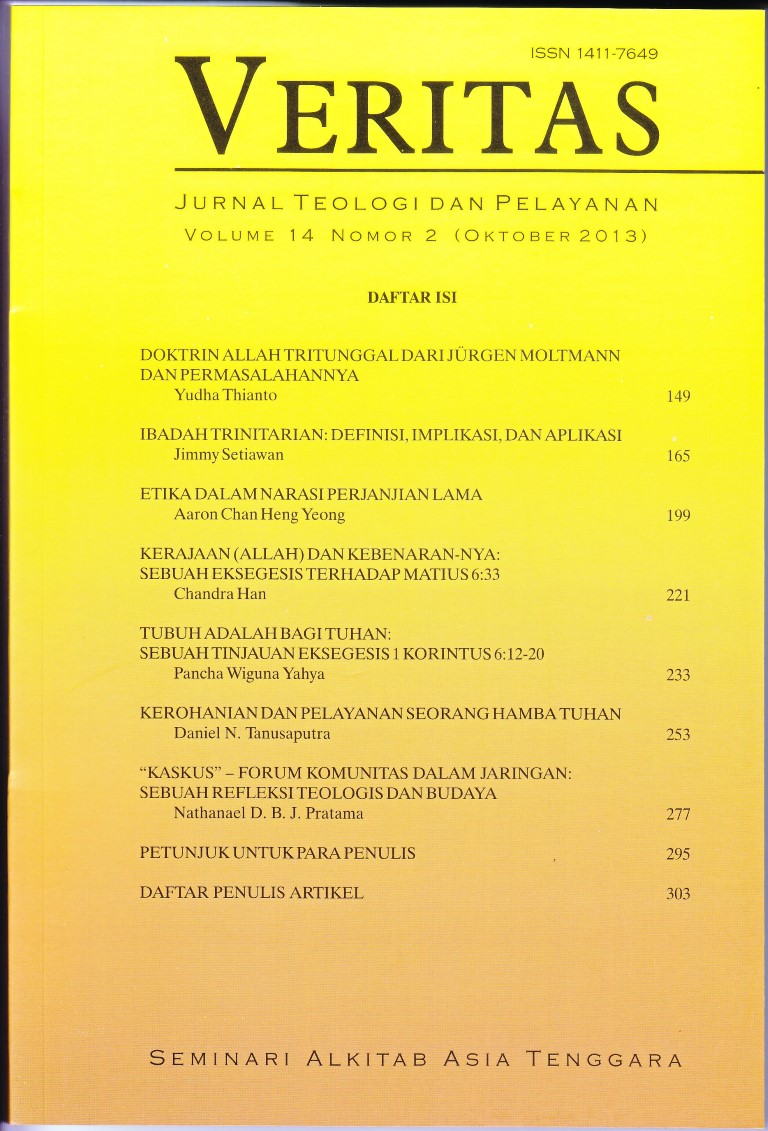 Downloads
How to Cite
Tanusaputra, Daniel Nugraha. "Kerohanian Dan Pelayanan Seorang Hamba Tuhan". Veritas: Jurnal Teologi dan Pelayanan 14, no. 2 (October 1, 2013): 253–276. Accessed March 26, 2023. https://ojs.seabs.ac.id/index.php/Veritas/article/view/281.