Calvin dan Lima Pilar Institusi Sosial
Keywords:
Calvin, Jean, 1509-1564 -- Political and social views.
Abstract
Lima pilar institusi sosial yang dimaksud adalah keluarga, gereja, pemerintah, ekonomi, dan pendidikan. Kelima pilar ini bukan kategori yang baku. Kelima pilar institusi sosial tersebut adalah metode pendekatan yang penulis pakai untuk membaca pemikiran John Calvin. Melalui metode tersebut, penulis bermaksud untuk menarik prinsip-prinsip etika sosial dari tulisan-tulisan Calvin. Dengan kata lain, ia sendiri tidak pernah membakukan kelima hal ini sebagai "pilar-pilar kehidupan sosial." Namun hal itu tidak berarti bahwa ia sama sekali tidak berbicara tentang sektor-sektor kehidupan sosial. Sebaliknya, penulis mendapati aplikasi sosial yang sangat luas dari teologi theocentric (berpusat pada kedaulatan Allah) yang ia pegang dengan setia. Untuk menggarisbawahi keunikan teologi sosial yang Calvin pegang, penulis akan membandingkan pemikiran Calvin dengan kecenderungan-kecenderungan sekular dari budaya pada zaman sekarang. Tentu saja dalam wadah yang terbatas ini, penulis tidak memiliki ruang yang cukup untuk memaparkan secara rinci seluruh aspek teologis dan moral yang terkandung dalam masing-masing institusi sosial yang akan dibicarakan. Penulis akan selektif dan memfokuskan pembahasan pada aspek "otoritas" yang lahir dari teologi theocentric dalam pemikirannya.
Downloads
Download data is not yet available.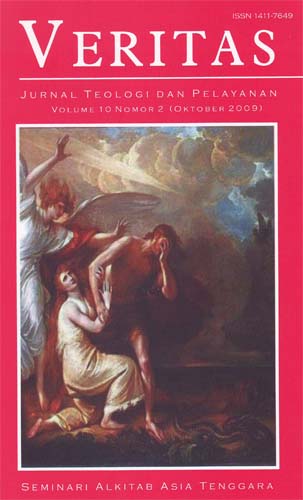 Downloads
How to Cite
Budiman, Kalvin S. "Calvin Dan Lima Pilar Institusi Sosial". Veritas: Jurnal Teologi dan Pelayanan 10, no. 2 (October 1, 2009): 189–205. Accessed March 29, 2023. https://ojs.seabs.ac.id/index.php/Veritas/article/view/219.