Pluralisme Agama dan Paradoks Kasih Karunia : Studi Mengenai Pemakaian Kristologi Donald Baillie oleh John Hick 
Keywords:
Pluralism -- Religious aspects -- Christianity, Grace (Theology), Hick, John, 1922-2012, Baillie, D. M. (Donald Macpherson), 1887-1954, Jesus Christ -- Person and offices.
Abstract
Karena kesadaran akan adanya pemikiran religius-pluralis zaman sekarang dan buruknya pemutlakan agama-agama termasuk kekristenan, dan juga karena hasil-hasil studi kritis Perjanjian Baru, John Hick beberapa tahun yang lalu menawarkan sebuah pendekatan atau peninjauan baru terhadap kristologi. ... Dalam mengembangkan pendekatan kristologi yang baru ini, ia memakai pemahaman Donald Baillie mengenai paradoks kasih karunia (paradox of grace) sebagai sebuah pemahaman yang bisa menjelaskan signifikansi Yesus dari segi metafora inkarnasi ilahi. ... Tujuan artikel ini adalah untuk memeriksa pemikiran Baillie yang dipakai oleh Hick sehubungan dengan pemikiran kembali kristologi yang diajukan Hick. Lalu kita ingin melihat apakah memang benar kristologi Baillie tentang paradoks kasih karunia secara logika telah menerabas parameter-parameter Chalcedon, dan akhirnya, mengarah ke posisi religius-pluralis. Untuk mencapai tujuan ini, penulis akan menganalisis pemahaman Hick tentang kristologi Baillie dan bagaimana ia sampai pada pandangannya bahwa Baillie gagal dalam menjelaskan inkarnasi sesuai dengan terminologi Chalcedon dan oleh karena itu membuka kemungkinan-kemungkinan bagi kristologi yang pluralis. Saya juga akan menganalisis kristologi Baillie dalam God was in Christ, kemudian membandingkan dan mengontraskan pemahamannya dengan pemahaman Hick. Kesimpulan penulis adalah bahwa Hick telah keliru memahami pandangan Baillie dan sesungguhnya pandangan Baillie masih berdiri dalam parameter-parameter rumusan Chalcedon dan oleh karena itu tidak bisa dipakai menjadi dasar kristologi yang pluralis. Di sepanjang bahasan, penulis mencoba untuk tetap mengacu pada sudut pandang isu religius pluralis, yang tidak diperhatikan secara langsung dalam studi yang berhubungan dengan kristologi Baillie.
Downloads
Download data is not yet available.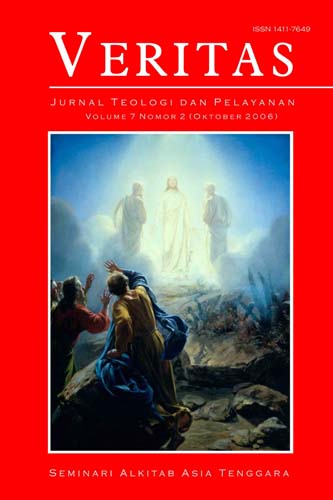 Downloads
How to Cite
Ban Garcia, Hidalgo. "Pluralisme Agama Dan Paradoks Kasih Karunia : Studi Mengenai Pemakaian Kristologi Donald Baillie Oleh John Hick ". Veritas: Jurnal Teologi dan Pelayanan 7, no. 2 (October 1, 2006): 149–164. Accessed March 30, 2023. https://ojs.seabs.ac.id/index.php/Veritas/article/view/175.