Meneropong Teks dalam Konteks: Katekismus Heidelberg P/J 53
Freddy Gunawan

Sekolah Tinggi Teologi IMAN Jakarta
Keywords:
Katekismus Heidelberg P/J 53,, Roh Kudus, Penghiburan, Konteks masa lalu, Konteks tekstual, Konteks masa kini, Penyertaan
Abstract
Katekismus Heidelberg merupakan salah satu warisan tradisi iman Reformed yang memuat pengajaran yang begitu kaya dan limpah mengenai doktrin Allah Roh Kudus. Secara eksplisit, pengajaran tentang doktrin Allah Roh Kudus dalam Katekismus Heidelberg memang hanya terdapat dalam P/J 53. Namun, hal ini tidak berarti bahwa pengajaran doktrin Allah Roh Kudus dalam Katekismus Heidelberg hanya termaktub di dalam bagian ini saja. Tulisan ini mencoba menganalisis kekayaan doktrin Allah Roh Kudus, secara khusus P/J 53, dalam tiga konteks: konteks masa lalu yang menjadi latar belakang terbentuknya Katekismus Heidelberg, konteks makro dan mikro P/J 53 secara tekstual, dan relevansinya bagi konteks masa kini, khususnya Indonesia.
Kata-kata kunci: Katekismus Heidelberg, P/J 53, Roh Kudus, penghiburan, penyertaan, konteks masa lalu, konteks tekstual, konteks masa kini
English: 
The Heidelberg Catechism reflects a rich heritage within the Church that adheres to the Reformed tradition. It contains a rich strain of doctrine pertaining to the doctrine of the Holy Spirit. Explicitly, within the Heidelberg Catechism, the teaching regarding the doctrine of the Holy Spirit as a Member of the Godhead is found only in Question/Answer 53. Of course, this does not mean that the only teaching on the subject of the doctrine of the Holy Spirit within the Heidelberg Catechism is recorded in this section alone. The purpose of this essay is an attempt to conduct an analysis of the doctrine of the Holy Spirit, specifically Q/A 53, from three different contexts: the historical setting which reflects the historical context in which the Heidelberg Catechism was formulated, a macro and micro textual analysis of Q/A 53 within the context of the Heidelberg Catechism, and finally, the relevancy of the document for the contemporary context, especially focusing upon the Indonesian context.
Keywords: Heidelberg Catechism, Question/Answer 53, The Holy Spirit, Consolation, Abiding, Historical Context, Textual Context, Contemporary Context
References
Bierma, Lyle D. An Introduction to Heidelberg Catechism: Sources, History, and Theology. Grand Rapids. Baker, 2005.
Burger, Hans. "Gospel Presentation and the Structure of the Heidelberg Catechism." Diakses 11 Desember 2014. https://www.academia.edu/3772581/Gospel_Presentation_and_the_Structure_of_the_Heidelberg_Catechism.
Halsema, Thea B. Van. Three Men Came to Heidelberg and Glorious Heretic: The Story of Guido de Brès. Grand Rapids: Baker, 1991.
Heideman, Eugene P. "God the Holy Spirit." Dalam Guilt, Grace, and Gratitude: A Commentary on the Heidelberg Catechism, diedit oleh Donald J. Bruggink. New York: The Half Moon Press, 1963.
Hoeksema, Herman. The Triple Knowledge. Vol. 2, An Exposition of the Heidelberg Catechism. Grand Rapids: Eerdmans, 1947.
Klooster, Fred H. A Mighty Comfort. Grand Rapids: CRC, 1990.
Latzel, Thorsten. Theologische Grundzüge des Heidelberger Katechismus: eine fundamentaltheologische Untersuchung seines Ansatzes zur Glaubenskommunikation. Vol. 83, Marburger theologische Studien. Marburg: N. G. Elwert, 2004.
Dawa, Mariani Febriana Lere. Penghiburan dan Sukacitaku Selamanya: Suatu Uraian Katekismus Heidelberg. Malang: Bayumedia, 2014.
Plantinga, Jr., Cornelius. A Place to Stand. Grand Rapids: CRC, 1979.
Reenen, G. Van. The Heidelberg Catechism: Explained for the Humble and Sincere in 52 Sermons. Paterson: Lont & Overkamp, 1955.
Sproul, R. C. Kebenaran-kebenaran Dasar Iman Kristen. Diterjemahkan oleh Rahmiati Tanudjaja. Malang: Literatur SAAT, 2000.
Stam, Clarence. Living in the Joy of Faith: The Christian Faith as outlined in the Heidelberg Catechism. Canada: Inheritance, 1991.
Tim Departemen Dogma dan Penelitian Sinode Gereja Kristus Tuhan dan Staf Pengajar STT Aletheia. Renungan Harian menurut Katekismus Heidelberg I. Surabaya: Rachmat Printing, 2011.
Ursinus, Zacharias. The Commentary of Dr. Zacharias Ursinus on the Heidelberg Catechism. Philipsburg: P & R, 1852.
Ursinus, Zakharias dan Caspar Olevianus. Katekismus Heidelberg: Pengajaran Agama Kristen. Edisi revisi. Diterjemahkan oleh Tim BPK Gunung Mulia. Jakarta: BPK Gunung Mulia, 2013.
Verboom, Wim. "The Completion of the Heidelberg Catechism." Dalam The Church's Book of Comfort. Diedit oleh Willem Van 'T Spijker. Diterjemahkan oleh Gerrit Bilkes. Grand Rapids: Reformed Heritage Books, 2009.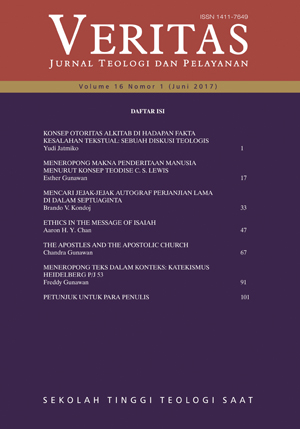 How to Cite
Gunawan, Freddy. "Meneropong Teks Dalam Konteks: Katekismus Heidelberg P/J 53". Veritas: Jurnal Teologi dan Pelayanan 16, no. 1 (June 1, 2017): 91-102. Accessed July 16, 2020. https://ojs.seabs.ac.id/index.php/Veritas/article/view/12.
Manuscripts received for publication are copyright of Veritas: Jurnal Teologi dan Pelayanan. Requests to print part or all of the parts must be made to the Editor. The request is not needed if the copy is used for research, lectures, class discussions, personal websites or institutional repositories, but must still include references from Veritas: Jurnal Teologi dan Pelayanan.