Track Record Sekolah Teologi : Anugerah Karya Allah Mulai dari Keterbatasan Mendidik Calon Rohaniwan sampai Penerimaan Lulusannya oleh Gereja dan Lembaga Kristen 
Keywords:
Theology -- Study and teaching, Theological seminaries, Seminaries
Abstract
Trinity Evangelical Divinity School (TEDS) yang berdiri sejak tahun 1897 adalah lembaga pendidikan teologi berakreditasi yang bertaraf internasional. Track record untuk lulusan TEDS yang "terpakai" oleh lembaga-lembaga Kristen adalah: 85% dari lulusannya, dalam waktu setengah tahun, telah menduduki posisi pelayanan di gereja dan berbagai lembaga Kristen.1 TEDS yang mempunyai reputasi internasional ini, diinformasikan oleh Rick Kalal,2 mendapat kritikan dari para pendeta "gereja-gereja besar pemakai lulusan TEDS." Kritikannya adalah: Para lulusan TEDS hanya bisa mengeksegesis Alkitab tetapi kurang mampu mengeksegesis budaya; tahu membaca bahasa Yunani dan Ibrani, tetapi kurang matang dalam spiritual, keterampilan keorganisasian dan penggembalaan untuk dapat menjadi pemimpin rohani yang efektif. Tindakan kritik tersebut dilanjutkan dengan "ancaman": jika lulusan TEDS berikutnya tidak menunjukkan perubahan yang signifikan, maka mereka akan mendirikan sekolah teologi sendiri, alias tidak akan menerima lagi "pasokan" rohaniwan lulusan TEDS. … Paparan selanjutnya akan menunjukkan catatan pelayanan para rohaniwan di lembaga-lembaga "pemakai," khususnya gereja, yang kelemahan-kelemahannya selalu dikembalikan pada lembaga yang mendidiknya, yaitu sekolah teologi. Setelah itu akan ditunjukkan catatan keterbatasan-keterbatasan proses pendidikan mulai dari penyaringan peserta didik baru, proses pendidikan, magang, sampai kegiatan evaluasinya.
Downloads
Download data is not yet available.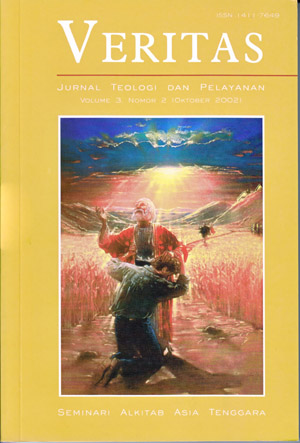 Downloads
How to Cite
Pilimon, Jahja Elia. "Track Record Sekolah Teologi : Anugerah Karya Allah Mulai Dari Keterbatasan Mendidik Calon Rohaniwan Sampai Penerimaan Lulusannya Oleh Gereja Dan Lembaga Kristen ". Veritas: Jurnal Teologi dan Pelayanan 3, no. 2 (December 20, 2018): 199–216. Accessed March 29, 2023. https://ojs.seabs.ac.id/index.php/Veritas/article/view/96.