Memahami Ulang Konteks Berteologi John Calvin dalam Doktrin Predestinasi
Keywords:
Predestination -- History of doctrines.
Abstract
Artikel ini tidak bermaksud secara langsung dan detail menguraikan doktrin predestinasi, atau bahkan menjawab serangkaian pertanyaan rumit yang sering kali muncul seputar doktrin ini. Artikel ini lebih merupakan suatu usaha untuk memahami kembali kerangka dasar atau konteks doktrin predestinasi sebagaimana diajarkan oleh John Calvin. … Artikel ini dibagi dalam dua bagian. Bagian pertama membahas konteks pemahaman doktrin predestinasi Calvin dengan mengamati perkembangan tulisan-tulisannya guna melihat kerangka atau pola dasar pemikirannya tentang predestinasi. Bagian kedua merupakan aplikasi pemahaman bagian pertama di dalam membaca tulisan Calvin tentang predestinasi dalam relevansinya dengan konteks yang ia maksud.
Downloads
Download data is not yet available.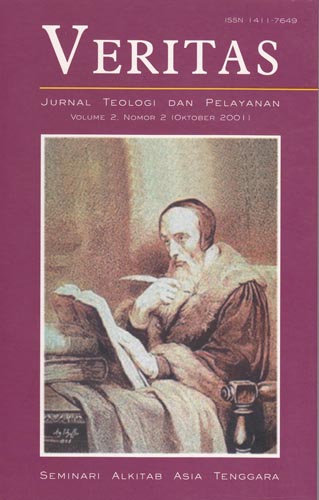 Downloads
How to Cite
Budiman, Kalvin s. "Memahami Ulang Konteks Berteologi John Calvin Dalam Doktrin Predestinasi". Veritas: Jurnal Teologi dan Pelayanan 2, no. 2 (October 1, 2001): 159–175. Accessed February 4, 2023. https://ojs.seabs.ac.id/index.php/Veritas/article/view/74.