500 tahun Yohanes Calvin : Pengetahuan tentang Allah adalah Testing Ground untuk Mengenal Manusia
Keywords:
Calvin, Jean, 1509-1564, God -- Knowableness
Abstract
Dalam artikel ini saya berusaha memaparkan sesuatu yang paling dasar dan permulaan sekali dari karya Calvin, yaitu doktrin Allah, atau lebih spesifik lagi, doktrin pengetahuan tentang Allah. Menarik sekali ia memulai pembahasan dalam Institusio-nya dari sudut ini dan bukan dimulai dari doktrin-doktrin penting lainnya (mis. Kristus, penebusan, Alkitab, atau Gereja). Sengaja di bagian awal saya mengutip perkataan Aleksandr Solzhenitsyn (11 Desember 1918–3 Agustus 2008)—seorang novelis pemenang hadiah Nobel bidang kesusasteraan tahun 1970, penulis drama dan sejarawan Rusia ternama—yang di antara berbunyi: "Men have forgotten God; that's why all this has happened." Saya berasumsi mirip dengan Solzhenitsyn: Di abad 21 dan era posmodernisme sekarang ini, manusia sebenarnya telah melupakan Allah; itulah sebabnya semakin banyak masalah melanda kehidupan manusia di zaman ini, baik di tingkat nasional maupun internasional. Intinya, manusia tidak mengenal Allah, atau, mengutip perkataan Calvin di awal tadi, manusia berusaha semaksimal mungkin menjauhkan diri dari pengetahuan tentang Allah yang benar itu. Maka melalui artikel ini penulis berusaha menghadirkan kembali pemahaman yang benar tentang doktrin pengetahuan tentang Allah khususnya dari perspektif Calvin, serta melihat pada aplikasinya dalam kehidupan dan pelayanan Kristen dewasa ini.
Downloads
Download data is not yet available.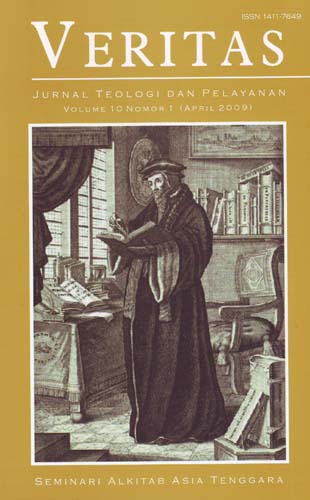 Downloads
How to Cite
Lukito, Daniel Lucas. "500 Tahun Yohanes Calvin : Pengetahuan Tentang Allah Adalah Testing Ground Untuk Mengenal Manusia". Veritas: Jurnal Teologi dan Pelayanan 10, no. 1 (April 1, 2009): 3–28. Accessed October 4, 2022. https://ojs.seabs.ac.id/index.php/Veritas/article/view/212.