Pengaruh Pascamodernisme terhadap Hermeneutika Biblika
Keywords:
Postmodernism -- Religious aspects -- Christianity., Bible -- Criticism, interpretation, etc.
Abstract
"There is a spectre haunting classical Christianity, that of postmodernism," demikian R. Albert Mohler, Jr. mengawali artikelnya yang dimuat dalam sebuah antologi yang bertemakan "tantangan pascamodernisme bagi kekristenan injili." Pendapat Mohler tersebut adalah sebuah fakta yang tidak dapat disangkal bahwa pengaruh (negatif) pascamodernisme merupakan ancaman bagi kekristenan, termasuk di dalam ranah hermeneutika. Menurut Roy B. Zuck, hermeneutika adalah "sains sekaligus seni" dalam menafsir Alkitab. Hermeneutika, di satu sisi adalah sains karena ia adalah teknik menafsir Alkitab dengan mengikuti kaidah-kaidah tertentu, di sisi lain ia juga adalah seni karena melibatkan imajinasi dan perasaan penafsir, serta membutuhkan keterampilan penafsir untuk menerapkan kaidah-kaidah penafsiran tersebut. Namun, herme-neutika tidak berhenti pada teknik menafsir Alkitab; hermeneutika juga harus mengaplikasikan hasil penafsiran tersebut pada situasi kontemporer. Selain sains dan seni, Osborne menambahkan satu unsur lagi dalam hermeneutika, yaitu tindakan spiritual (spiritual act karena menurutnya, penafsiran Alkitab dilakukan di bawah pimpinan Roh Kudus). Sehubungan dengan adanya pengaruh pascamodernisme terhadap hermeneutika biblika, artikel ini akan menjawab beberapa pertanyaan berikut ini: (1) Apa saja dan sejauh mana pengaruh (negatif) pascamodernisme terhadap hermeneutika? (2) Bagaimana seharusnya kita menghadapi pengaruh-pengaruh tersebut? (3) Apakah pascamodernisme hanya berdampak negatif? Adakah sumbangsih positif dari pascamodernisme bagi hermeneutika biblika?
Downloads
Download data is not yet available.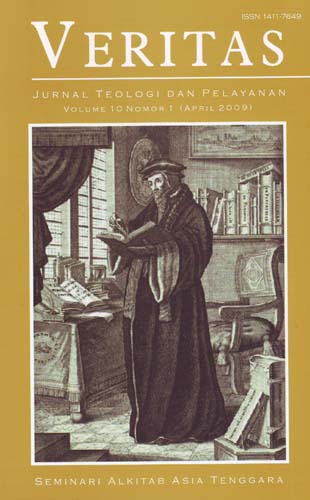 Downloads
How to Cite
Yahya, Pancha W. "Pengaruh Pascamodernisme Terhadap Hermeneutika Biblika". Veritas: Jurnal Teologi dan Pelayanan 10, no. 1 (April 1, 2009): 117–133. Accessed March 26, 2023. https://ojs.seabs.ac.id/index.php/Veritas/article/view/207.