Khotbah Situasional : Mengenal Metode Khotbah Harry Emerson Fosdick
Keywords:
Preaching -- Methodology., Fosdick, Harry Emerson, 1878-1969
Abstract
Harry Emerson Fosdick (1878-1969) diakui oleh banyak orang sebagai satu dari pengkhotbah Amerika yang paling berpengaruh pada paruh pertama abad kedua puluh. Ia dilahirkan di Buffalo, New York, anak dan cucu dari seorang guru sekolah Baptis. Pada masa kuliah di Colgate University ia sudah menggumulkan hubungan antara iman Kristen dan kebenaran sains modern. Akhirnya, pada tahun 1896 ia meninggalkan iman injili masa kecilnya dan mengadaptasi teologi liberal setelah membaca buku A History of the Warfare of Science with Theology in Christendom karya Andrew Dickson White. Para profesor pengajar di Colgate University dan Union Theological Seminary (New York), tempat ia meraih gelar B. A. (1900) dan B. D. (1904), meyakinkannya bahwa ia tetap dapat melayani Tuhan tanpa harus memegang teologi injilinya. Hasilnya, Fosdick belajar teologi di bawah William Newton Clarke yang membawanya kepada Neo-liberalisme dengan penekanannya pada evolusi wahyu ilahi dan kebaikan manusia.
Downloads
Download data is not yet available.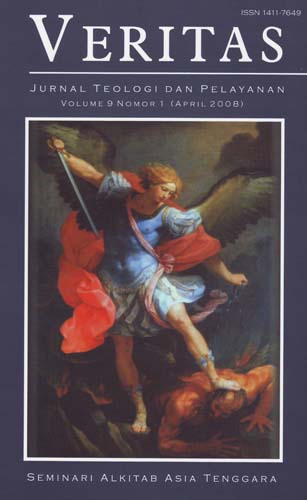 Downloads
How to Cite
Kosasih, Andri. "Khotbah Situasional : Mengenal Metode Khotbah Harry Emerson Fosdick". Veritas: Jurnal Teologi dan Pelayanan 9, no. 1 (April 1, 2008): 105–11`7. Accessed February 4, 2023. https://ojs.seabs.ac.id/index.php/Veritas/article/view/191.