Introduksi pada Iman Reformed
Keywords:
Theology, Doctrinal., Reformed Church -- Doctrines.
Abstract
Tulisan ini hanyalah suatu "introduksi" kepada iman reformed, jadi bukan merupakan suatu analisis yang mendalam. Namun jelas tetap bermanfaat untuk mengetahui gambaran sekilas di saat awal studi saudara. Bersama-sama dengan tulisan ini, saya mengharapkan saudara membaca Pengakuan Iman Westminster, Larger dan Shorter Catechism, serta "tiga bentuk kesatuan" dari gereja-gereja reformed di benua Eropa: Pengakuan Iman Belgia, Katekismus Heidelberg, serta Kanon-kanon Dordt. Semua itu merupakan ringkasan yang indah dari posisi doktrin reformed, yang disajikan secara utuh, ringkas, dan tepat. Heidelberg adalah salah satu karya devosional yang agung di sepanjang masa. Saya juga percaya ada banyak manfaat yang bisa didapatkan dari pembukaan ringkasan teologi reformed karya Cornelius Van Til, The Defense of the Faith.
Downloads
Download data is not yet available.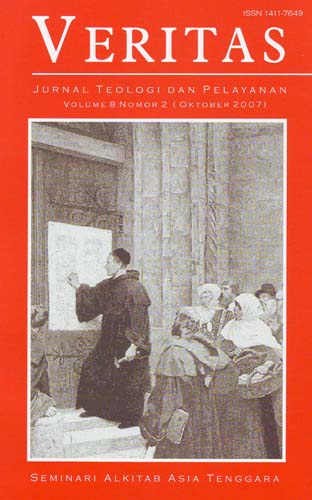 Downloads
How to Cite
Frame, John M. "Introduksi Pada Iman Reformed". Veritas: Jurnal Teologi dan Pelayanan 8, no. 2 (October 1, 2007): 169–189. Accessed June 25, 2022. https://ojs.seabs.ac.id/index.php/Veritas/article/view/188.