Kekristenan dan Kebudayaan (Bagian 2)
Keywords:
Christianity and culture.
Abstract
Pembahasan pada bagian pertama berkisar tentang kebudayaan secara umum dan sedikit banyak bersifat teoritis. Bagian pertama berisi penjelasan tentang pertanyaan "Apa itu Kebudayaan?" dan pembahasan kedua tentang relasi antara Kristus dan semua kebudayaan secara umum. Sekarang, kita harus fokus pada kebudayaan secara aktual dan kebudayaan sebagaimana telah berlangsung selama ini, yaitu kebudayaan sebagaimana yang kita alami.  
Downloads
Download data is not yet available.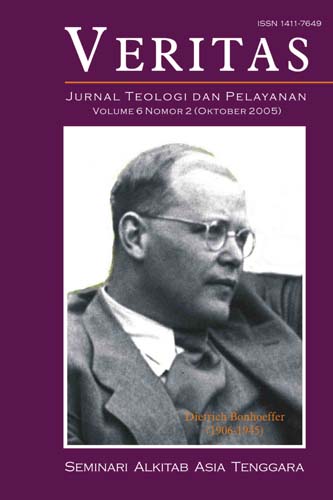 Downloads
How to Cite
Frame, John. "Kekristenan Dan Kebudayaan (Bagian 2)". Veritas: Jurnal Teologi dan Pelayanan 6, no. 2 (October 1, 2005): 185–209. Accessed March 23, 2023. https://ojs.seabs.ac.id/index.php/Veritas/article/view/147.