Kepemimpinan Yohanes Pembaptis
Keywords:
John, the Baptist, Saint, Leadership -- Religious aspects -- Christianity.
Abstract
Seorang pemimpin biasanya menimbulkan dua hal yang kontradiktif. Ia bisa dikasihi atau sebaliknya, dibenci oleh orang-orang yang dipimpinnya. Ada berbagai alasan atau motivasi yang dapat menimbulkan dua hal kontradiktif sebagai akibat kepemimpinan seseorang. Namun pembahasan mengenai soal ini, meski penting, tidak dapat diuraikan di sini. Artikel ini lebih dititikberatkan pada diri seorang pemimpin ketimbang respons terhadapnya. Relasi benci-kasih terhadap seorang pemimpin akan menimbulkan pertanyaan: "Apa sebenarnya tugas dan fungsi seorang pemimpin?" Dari sekian banyak figur Alkitab, kepemimpinan Yohanes Pembaptis terkesan sangat menonjol dan dramatis. Dengan pendekatan naratif saya berupaya menyusun suatu potret Yohanes Pembaptis. Kompleks dan luasnya masalah menyebabkan data-data dasar hanya bersumber dari injil Yohanes sehingga tentu saja hasilnya bukan merupakan sebuah potret yang utuh. Namun paling sedikit sketsa ini diharapkan dapat mendorong penelitian lanjutan terhadap karakter Yohanes Pembaptis. Penelaahan dimulai dari Yohanes 1:1-18, dilanjutkan dengan bagian lain dari kitab ini. Sudah merupakan kelaziman di kalangan pakar injil Yohanes memberi label Prolog untuk 1:1-18. Melalui artikel ini saya ingin menguji apakah benar Prolog tersebut merupakan miniatur injil Yohanes? Jika bagian ini dinyatakan sebagai injil Yohanes dalam bentuk padat dan ringkas, maka kitab ini tentulah merupakan uraian lanjutan dari Prolog. Kita akan menguji tesis ini dengan melihat karakterisasi Yohanes Pembaptis dalam Prolog dan injil Yohanes. Dengan perkataan lain, pertanyaan yang akan ditelusuri adalah: Apakah Prolog merupakan bagian integral dari injil Yohanes?
Downloads
Download data is not yet available.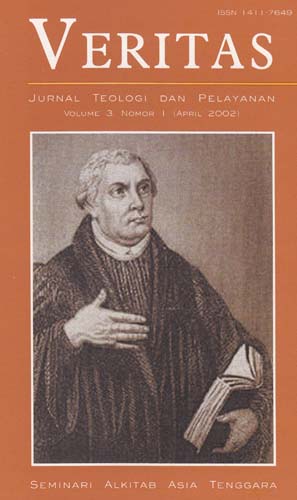 Downloads
How to Cite
Barus, Armand. "Kepemimpinan Yohanes Pembaptis". Veritas: Jurnal Teologi dan Pelayanan 3, no. 1 (April 1, 2002): 73–81. Accessed December 9, 2023. https://ojs.seabs.ac.id/index.php/Veritas/article/view/82.