Doktrin Kerajaan Allah Menurut Walter Rauschenbusch
Keywords:
Kingdom of God., Rauschenbusch, Walter, 1861-1918.
Abstract
Walter Rauschenbusch lahir dan dibesarkan di Rochester, New York. Setelah menyelesaikan pendidikannya di Rochester Theological Seminary, ia ditahbiskan sebagai pendeta di Second Baptist Church di New York. Dalam pengalaman pelayanannya di daerah yang yang disebut "Hell's Kitchen," ia melihat betapa kerasnya kehidupan saat itu. Ia menyaksikan eksploitasi tenaga kerja oleh industri-industri raksasa, penindasan kepada kaum miskin dan lemah, dan perlakuan diskriminatif dari pihak penguasa kepada orang-orang yang menderita. Sementara di sisi lain, ia melihat gereja tidak melakukan tindakan apapun. Sikap pasif dari gereja itu dimengerti oleh Rauschenbusch sebagai tanda dari kegagalan teologi di dalam menjawab tantangan zaman. Bagi Rauschenbusch teologi membutuhkan suatu penyesuaian untuk dapat menjawab tantangan ataupun kebutuhan zaman. Ia menyadari adanya kesulitan-kesulitan yang besar dalam usaha penyesuaian itu. Kunci untuk menjawab tantangan ini adalah penempatan kembali doktrin Kerajaan Allah sebagai pusat dari teologi. Melalui Injil Sosial, Rauschenbusch ingin kembali menempatkan doktrin Kerajaan Allah sebagai pusat dari teologi. Oleh karena itu dalam Injil Sosial, doktrin Kerajaan Allah menjadi pusat, bahkan "This doctrine [the Kingdom of God] is itself social gospel." Seluruh doktrin yang lain haruslah diinterpretasikan (ulang) di bawah terang doktrin ini. Tulisan ini mencoba melihat apa dan bagaimana karakteristik doktrin Kerajaan Allah menurut Rauschenbusch, latar belakang filsafat di balik pemikiran Rauschenbusch, dan implikasinya terhadap doktrin Kerajaan Allah, doktrin dosa dan doktrin keselamatan. Setelah itu akan diberikan kajian terhadap pemikiran Rauschenbusch dari sudut pandang teologi Injili. Dalam bagian penutup akan diberikan kesimpulan dan sumbangsih pemikiran Rauschenbusch dalam konteks gereja di Indonesia.
Downloads
Download data is not yet available.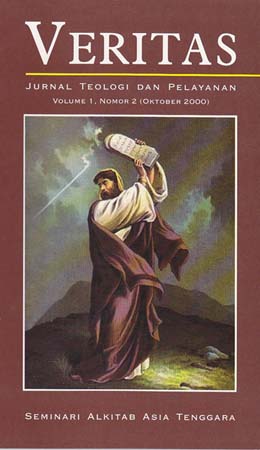 Downloads
How to Cite
Pramudya, Wahyu. "Doktrin Kerajaan Allah Menurut Walter Rauschenbusch". Veritas: Jurnal Teologi dan Pelayanan 1, no. 2 (October 1, 2000): 169–179. Accessed June 30, 2022. https://ojs.seabs.ac.id/index.php/Veritas/article/view/41.