Kristologi Kosmik : Tinjauan Ulang dari Sudut Biblikal, Teologikal dan Historikal
Keywords:
Jesus Christ -- History of doctrines, Jesus Christ -- Person and offices.
Abstract
Topik mengenai Kristologi Kosmik (Cosmic Christology) merupakan salah satu isu yang paling banyak diperdebatkan dalam disiplin teologi Kristen selama empat puluh tahun terakhir ini. Menurut Daniel L. Migliore: "Among the major challenges faced by Christology in our time is rethinking the relationship of the person and work of Christ to the cosmic process." Sementara itu Allan Bailyes juga menunjukkan bahwa Cosmic Christ adalah satu dari lima doktrin Kristen dasar yang paling banyak diperdebatkan di kalangan orang Kristen, terutama antara kubu Injili dan Ekumenikal. Isu ini pantas dikaji dan dianalisis ulang secara teologis karena hal ini menyentuh "pusat syaraf" (the central nerve) kekristenan. Isu ini juga memiliki implikasi yang serius dan signifikan bagi perjalanan kekristenan di masa depan apabila tidak dipikirkan secara tepat-benar. Artikel ini akan mencoba menelusuri secara singkat sejarah pencetusan dan perkembangan Kristologi Kosmik dalam kaitan dengan interrelasi antara kubu Injili dan Ekumenikal. Hal-hal yang berkenaan dengan dasar biblikal, termasuk berbagai isu serta perdebatan yang berkaitan dengan lingkup teologis maupun historis, akan dibahas pada bagian selanjutnya sebelum sampai pada konklusi.
Downloads
Download data is not yet available.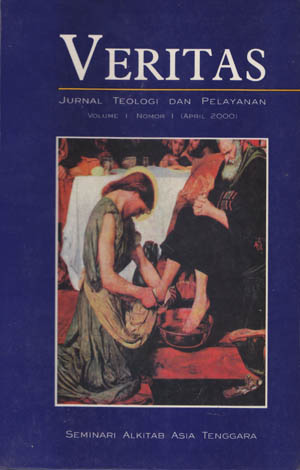 Downloads
How to Cite
Notomihardjo, Robbyanto. "Kristologi Kosmik : Tinjauan Ulang Dari Sudut Biblikal, Teologikal Dan Historikal". Veritas: Jurnal Teologi dan Pelayanan 1, no. 1 (April 1, 2000): 29–38. Accessed February 4, 2023. https://ojs.seabs.ac.id/index.php/Veritas/article/view/34.