Doktrin Allah Tritunggal dari Jurgen Moltman dan Permasalahannya
Keywords:
Trinity, Jürgen Moltmann
Abstract
Artikel ini mengkaji analogi sosial doktrin Allah Tritunggal versi Jurgen Moltmann sebagaimana yang ia jelaskan dalam bukunya The Trinity and the Kingdom. Meskipun Moltmann kuat dalam menggunakan pendekatannya terhadap doktrin tersebut beserta analoginya seperti yang dipresentasikan oleh bapa-bapa gereja Timur, doktrin Tritunggal versinya memiliki permasalahannya sendiri. Meskipun ia menyangkal semua tuduhan bahwa ia triteistik dalam doktrinnya, analisis yang cermat terhadap pandangannya menunjukkan bahwa ia telah meninggalkan doktrin Trinitarian kredo ekumenis yang standar, khususnya kredo Athanasius. Artikel ini mengusulkan bahwa doktrin Tritunggal Moltmann terlalu dekat pada triteisme.
Downloads
Download data is not yet available.
References
Bauckham, Richard. "Jürgen Moltmann." Dalam The Modern Theologians: An Introduction to Christian Theology Since 1918. Edisi ketiga. Ed. David F. Ford. Oxford: Blackwell, 2005.
Grenz, Stanley J. & Roger E. Olson. Twentieth Century Theology: God & the World in a Transitional Age. Downers Grove: InterVarsity, 1992.
Moltmann, Jürgen. Theology of Hope. London: SCM, 1967.
Moltmann, Jürgen. The Crucified God: The Cross of Christ as the Foundation and Criticism of Christian Theology. London: SCM, 1973.
Moltmann, Jürgen. The Trinity and the Kingdom: The Doctrine of God. New York: Harper and Row, 1981.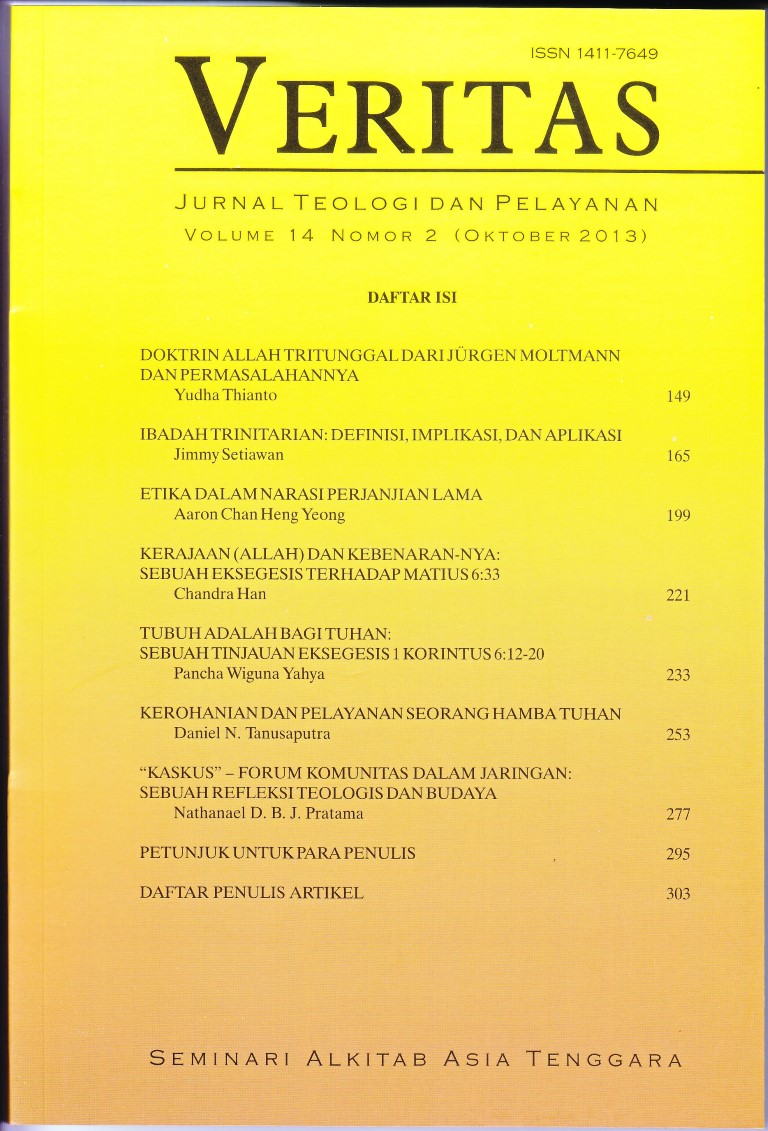 Downloads
How to Cite
Thianto, Yudha. "Doktrin Allah Tritunggal Dari Jurgen Moltman Dan Permasalahannya". Veritas: Jurnal Teologi dan Pelayanan 14, no. 2 (October 1, 2013): 149–164. Accessed December 5, 2023. https://ojs.seabs.ac.id/index.php/Veritas/article/view/286.