Yesus Sebagai Guru : Studi Injil Yohanes
Keywords:
Jesus Christ -- Person and offices.
Abstract
Banyak buku atau artikel telah diterbitkan berbicara tentang siapakah Yesus dan karya-Nya. Namun sayang, kebanyakan sarjana kurang memperhatikan atau telah mengabaikan potret Yesus sebagai guru dalam Injil Yohanes. Padahal, dalam Injil Yohanes rasul Yohanes secara eksplisit menunjukkan Yesus sebagai guru. William Barclay menulis sebuah buku berisi empat puluh dua bab; masing-masing mengenai gelar Yesus dalam Perjanjian Baru. Namun tidak satu bab pun membahas Yesus sebagai guru (rabi). Demikian juga halnya Frank J. Matera ketika membahas kristologi Injil Yohanes dalam bukunya New Testament Christology, telah mendaftarkan sejumlah identitas dan gelar Yesus, tetapi tidak memasukkan Yesus sebagai guru, apalagi membahasnya. Pengecualian mungkin R. H. Fuller dalam bukunya The Foundations of New Testament Christology, telah memasukkan Yesus adalah rabi dalam pembahasannya. Namun, pembahasannya tentang Yesus sebagai rabi juga terlalu singkat hanya sekitar dua halaman penuh. Bahkan M. Hengel mengatakan bahwa sebutan rabi bagi Yesus tidak seharusnya membawa konotasi guru, tetapi mungkin hanya mempunyai fungsi sebagai satu istilah penghormatan saja. Karena itu, ia mengatakan bahwa kita harus berhenti secara bersama-sama melukiskan Yesus sebagai seorang rabi. Kurangnya sarjana-sarjana dalam melihat Yesus sebagai guru, khususnya dalam Injil Yohanes tentu sangat disayangkan. Semua kenyataan ini mendorong penulis untuk menunjukkan bahwa Yesus sebagai guru harus diperhatikan dan dibahas oleh para sarjana dalam pemberitaan, pengajaran, maupun dalam buku-buku teologi. Di samping itu, gambaran Yesus sebagai guru, selain sebagai Tuhan dan Juruselamat, harus diteladani oleh para hamba Tuhan, para penatua, para diaken atau majelis gereja, guru-guru sekolah minggu, orang-orang Kristen secara umum, bahkan para dosen, guru agama Kristen, dan guru Kristen. Dalam artikel ini, penulis akan menunjukkan Yesus sebagai Guru, persamaan dan perbedaan Yesus dengan para rabi Yahudi, profil Yesus sebagai guru, dan metode-metode pengajaran Yesus. Setelah itu, penulis akan menghubungkan Yesus sebagai guru dalam konteks pembaca pertama (suatu rekonstruksi) dan para guru masa kini.
Downloads
Download data is not yet available.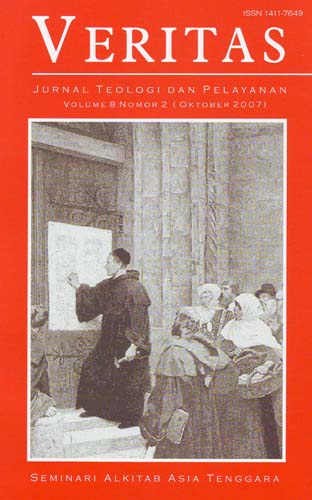 Downloads
How to Cite
Jonch, Christian. "Yesus Sebagai Guru : Studi Injil Yohanes". Veritas: Jurnal Teologi dan Pelayanan 8, no. 2 (October 1, 2007): 257–276. Accessed June 25, 2022. https://ojs.seabs.ac.id/index.php/Veritas/article/view/190.