Kehendak Bebas di Dalam Teologi Martin Luther
Keywords:
Free will and determinism -- Religious aspects -- Christianity., Luther, Martin, 1483-1546
Abstract
Tidak seperti tradisi teologi Gereja Timur yang mempersatukan anugerah dan kehendak bebas secara serentak saat menjelaskan mengenai ajaran keselamatan, tradisi teologi Gereja Barat di bawah pengaruh Agustinus telah memisahkan ajaran mengenai anugerah dan kehendak bebas dalam kaitannya dengan keselamatan. Di dalam tradisi teologi Gereja Barat, ajaran mengenai kehendak bebas tidak dipahami sebagai ikut andil dalam memperoleh keselamatan; malahan hal itu dipertentangkan dengan ajaran anugerah dalam kaitannya memperoleh keselamatan. Anugerah adalah satu-satunya jalan yang melaluinya seseorang dapat diselamatkan oleh Allah. ... Martin Luther, seorang pengikut teologi Agustinus, juga mempertentangkan antara anugerah dan kehendak bebas dalam relasinya dengan keselamatan. ... Sangat disayangkan, beberapa orang yang tidak mengerti teologi Luther secara mendalam telah berprasangka keliru terhadap ajaran teologinya, termasuk ajaran mengenai kehendak bebasnya. ... Apakah prasangka-prasangka di atas mempunyai dasar? Bagaimana ajaran kehendak bebas dari Luther dapat dipahami secara tepat? Bagaimana ajaran-ajaran lainnya dari Luther dapat menolong untuk memahami ajaran kehendak bebasnya? Di dalam tulisan yang singkat ini penulis mencoba untuk menjawab dan menjelaskan persoalan di atas dengan maksud untuk mencapai pengertian yang tepat dan benar terhadap ajaran kehendak bebas di dalam teologi Luther. Berkaitan dengan tujuan tersebut, penulis akan membahas secara singkat pergumulan teologis yang muncul dari pengalaman rohani Luther dan juga menyelidiki karya-karyanya, khususnya yang berkaitan dengan topik pembahasan di atas.
Downloads
Download data is not yet available.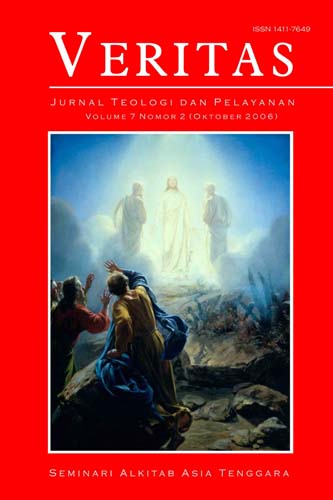 Downloads
How to Cite
Pranoto, Minggus Minarto. "Kehendak Bebas Di Dalam Teologi Martin Luther". Veritas: Jurnal Teologi dan Pelayanan 7, no. 2 (October 1, 2006): 199–224. Accessed March 30, 2023. https://ojs.seabs.ac.id/index.php/Veritas/article/view/181.